An Entire Building of Trendy Korea in Tsuruhashi Korea Town♡
2023.08.10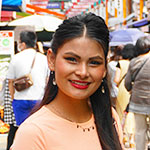 Written by: manju(manju)
● The Shops at the Shunka-Shuto Building
Namaste! I'm Manju from Nepal. I love gourmet food and shopping!
I love Osaka's Korea Town in Tsuruhashi and Ikuno, a place you can enjoy an authentic Korean experience. Remember the articles I wrote about Korean street foods and shopping on the Miyuki-dori Shopping Street? I heard there's a building there that's packed with gourmet foods and shops. I checked it out right away!
The Shunka-Shuto Building is located right in the middle of the Miyuki-dori Shopping Street, about 13 minute walk from Tsuruhashi Station. Inside this four-story building is all Korean—a market, cosmetic shops, and a café. I was excited even before entering♪
I first headed straight to the rental shop on the fourth floor as I had heard I could rent chima jeogori.
Whoa♡ So many beautiful chima jeogori were waiting for me!
I'd always wanted to try the Korean traditional garment, but rental shops are rare in Japan. It's a special experience you can only get in Korea Town!
There were so many, I had to ask for a recommendation.
They offer both the traditional chima jeogori and the dress style chima jeogori that's popular in Korea. It's hard to decide from the wide range of colors. I thought about pink, but in the end chose a refreshing blue. They showed me how to put it on, step-by-step!
Chima (a skirt) was open on the side and wraps around your body. Sockchima (a pannier underskirt) created a fluffy poofy princess silhouette. It made me happy♡
Jeogori (a short jacket) comes last, and the way you tie the ribbons is very distinct—it's sort of like a bowknot but with only one loop, and I liked how one end hung long.
I enjoyed coordinating head to toe with bags and various accessories. These cute tassels are pinned to Chima ribbon. I had my hair put up and, with a hair accessory, the styling was finally complete.
Voila! What do you think? Don't I look good?
The long Chima produced a poofy silhouette. It was so long it touched the floor. It reminded me of a wedding dress… and I felt like an elegant princess.
The rental fee starts at 2,000 yen per hour and varies depending on the rank of the chima jeogori. What's great here is that you can keep your chima jeogori on as you go shopping within the Shunka Shuto Building! If you just want a picture of yourself in chima jeogori, that's okay, too—it would cost you only 1,000 yen (30 minutes) at the café on the fourth floor.
It's hands down a great chance to experience the Korean culture, and you get a nice picture as a memento. I recommend it highly.
● LEE MART: A Korean Gourmet Market
Needless to say, I went exploring the building in my chima jeogori!
I started with the Korean market, LEE MART first. Walls of Korean food ingredients was a sight to see.
These drinks in vivid colors are Bon Bon fruit drinks popular in South Korea. I tried the peach flavor, which was very peachy! It was juicy and had chunks of peach. I liked it.
Store staff recommended this Korean noodles. They add lots of veggies to it and typically eat it after a Korean bbq. Sounds yummy, doesn't it? I definitely wanted to try it.
Look at this collection of seasonings and condiments! I'd never seen a bucket full of Gochujang! It was heavy!!
You can also find popular Korean snacks that are trending in South Korea. Turtle chips have been super popular there. It was neat to get the latest intelligence on South Korea from the store staff while I shopped♪
The ramen section is decidedly a highlight of this store. Look at all kinds of ramen noodles!
The selection ranges from Shin Ramyun which has become pretty common in Japan (I love it!) to other ramyeon (ramen) some of which I'd never seen. Thank goodness there's a hot pepper labeling that indicates the 5 levels of spiciness—they make it easy to try these various noodles.
They also have kimchi, naengmyeon cold noodles, frozen foods, and even meats. Finding ingredients here and taking them home to enjoy Korean food at home sounds really nice.
● Trendy Korean Cosmetics and Jewelries
Up above at "Somunnan Dae-chul" on the second floor, you can purchase trendy products the owner imported from South Korea. Somunnan means "reputed, word-of-mouth" in Korean.
The popular product here is Kombucha. Beauty enthusiasts love them. The health benefits of kombucha include improving the intestinal functions, a better blood circulation, and strengthened immunity.
I also found LEMONA, the go-to choice of vitamin tablets for Korean girls. They carry it with them all the time. I liked the packaging with a picture of the K-Pop group TWICE. Maybe I can be like the girls in TWICE if I take these??
Pop artists seem to be a common feature on packaging for Korean products. I saw bottles of latte with BTS on its packaging, too.
Next door was "POPO – Korean Fashion" where you can find general merchandise and various accessories that are popular among girls in South Korea. I found very affordable earrings and accessories.
Here're the smiley sandals and socks.
The balloon displays were cute and made the shopping experience fun.
The other shop on the second floor is "cosme shop Saesbyeol We". Here, you can buy the name brand cosmetics that are usually sold at the duty-free shops at the Incheon International Airport in South Korea at a more affordable price.
The shop was filled with cosmetics from designer brands like SK-II and Kiehl's. Some come in sizes exclusive to duty-free and are economical.
They even had jewelries handmade by artists using Swarovski.
It's a store for grownups, run by a lovely madam.
● K-BEAUTY HOUSE for Purikura Photos and Affordable Cosmetics
"Insaeng sajinwan" on the third floor has Purikura photo booths. The walls are all pink and the large mirror lets you take mirror selfies perfect for Instagram.
After a quick touch up on my make up, I went to the Purikura booth. I chose the yellow room—there were pink, blue, and yellow rooms—for my blue chima jeogori.
It'd been a while since I went to a Purikura, but operating the Purikura machine was very easy. I came out with cute photos.
Fun headdresses are available for free and are very popular among girls.
I know, because I saw them having a great time!
When shopping for Korean goods, you can't leave out what they call in Japan "puchi-pura" (literally "petit priced") cosmetics that may be defined as "cosmetics that are affordable and offer a little extra something". With a selection of cosmetics directly imported from South Korea, K-BEAUTY STORE next door to the Purikura photo booths is a good place for "puchi-pura" cosmetics.
Here's an abundant supply of face masks, too—I use them all the time.
Among many "puchi-pura" cosmetics, I found this rare item, a leg & feet mask called Eslena Ultracare Relaxing Socks. You put these on like socks, and your legs become soft, youthful, and refreshed as if you'd gone to a spa!
I tried it after I got home, and yes, my skin was silky and felt so good. This is a great ally to have for the barefoot season! I highly recommend it.
I also found stationary goods and "Kakao Friends" goods—in case you've never seen them, Kakao Friends characters look somewhat similar to the LINE characters in Japan.
● A Break at Hangbok Café
Up on the fourth floor, next to the chima jeogori rental shop, is Hangbok Café, a pleasant space to take a break after hours of shopping.
Salty-sweet bulgogi waffles, Kuroge Wagyu beef bulgogi gimbap, and 35-centimeter-tall parfaits all sounded good. I ordered a set of purple cream soda—think BTS—and 4 kinds of pajeon (savory Korean pancakes). Don't they look delicious?
The purple cream soda was Instagrammable for sure. Kimchi, potato, Chinese chive, and corn pajeons not only looked great but also were tasty!
Corn pajeon came with a tiny jug of condensed milk to pour on top. This unexpected combination was actually a great match. The café does have a selection of soju, a Korean variation of vodka, including a flight of chamisuru brand soju.
I really liked the cute uniforms of the café staff. They were all kind and I had fun talking with them.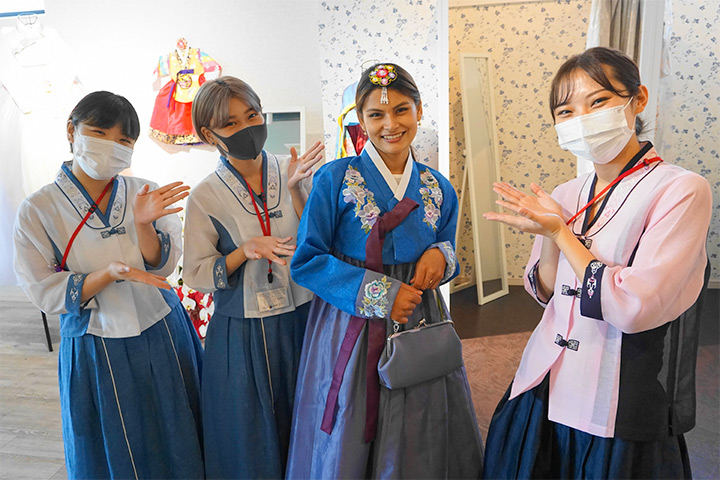 At the Shunka-Shuto Building, you can find the latest trends and experience the culture of South Korea while enjoying gourmet foods and shopping.
How cool is it that the experiences you would otherwise have when visiting South Korea are packed in one single building?
Next time you visit the Korea Town in Tsuruhashi and Ikuno, you too can experience Korea right here in the Shuka-Shuto Building!
Also check out another article on Korea Town
Osaka's Korea Town: Korean Street Food & BBQ
*This information is current as of September 10, 2021. Please understand that some details may have changed.
Spots Introduced
[Access] About 13 mins walk from Exit 6 at Tsuruhashi Station.
[Hours] 10:00 am – 7:00 pm
[Closed] No scheduled closing

Recommended Plans
Japanese products are known for their high quality around the world. Electronics …
2023.10.20
Vegetables are almost always part of a Japanese dish, but the truth is it's not easy to find …
2023.10.06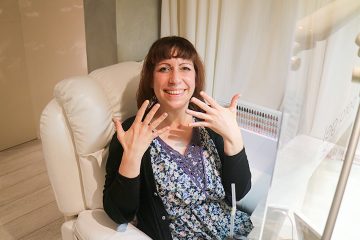 Nail art is truly a creative artwork in Japan. Stunning yet delicate designs and …
2023.09.22