Jun-Kissa in Osaka:
Classic Coffee Houses of Japan
2020.03.06

Written by: ฐิติกร สุนันทารอด(Sununtharod Thitikorn)
● 100 Years in Osaka, Hiraoka Coffee
The great number of coffee houses may surprise you as you walk around the city of Osaka.
All of them are busy with customers coming and going—on the way to work, during lunch, for an afternoon break, and after a night of drinking. These coffee houses offer a space for a nice little break any time of the day.
Of all types of coffee houses available in Japan, jun-kissa ("pure" kissaten) is a classic Japanese café that's quietly regaining popularity. I'd been interested in checking one out because the atmosphere of jun-kissa somewhat resembles cafés in Thailand where I'm from.
Typically founded back in the Showa period (1926-1989), today's kissaten in Japan are small coffee houses with a distinct Showa feel, each with a peculiar décor typically handpicked by the "master" who runs the place. Jun-kissa are those kissaten that do not serve alcoholic beverages. While Western style cafés and coffee shops dominate much of Japan today, jun-kissa has maintained its original style and offers a distinctive experience to its customers.
Hiraoka Coffee opened almost 100 years ago, in 1921.
Their menu is intentionally kept simple, with just coffee and doughnuts. The recipe for the doughnuts is unchanged since the shop was founded and some fans come to the café only for the doughnuts.
Naturally, I ordered a doughnut with my coffee. Their coffee was not drip brewed, nor was it pressed. They serve boiled coffee, which is made by decocting ground coffee beans then filtering them out.
With the gentle master and a charming staff dressed in Japanese attire standing behind the counter, I took a sip of my coffee. It was excellent! It was surprisingly light and easy to drink. I usually don't take my coffee black but enjoyed this one.
Then I had the doughnut. Fried to a perfect golden color, the doughnut was crispy on the outside and had just the right amount of sweetness. It went perfectly with the coffee.
With an English menu and an American staff, Hiraoka Coffee is friendly to international visitors who don't speak Japanese well.
● Do Re Mi at the Foot of Tsutenkaku Tower
Another nice jun-kissa, Do Re Mi, is located beneath Osaka's iconic Tsutenkaku Tower. This retro café opens early, at eight in the morning!
I ordered a "mix" sandwich for lunch. Served on a silver plate, the size of this sandwich was unlike the typical small portions you see everywhere in Japan. The bread was fresh and soft, and it was stuffed with eggs and ham. I finished the whole thing in no time despite the size.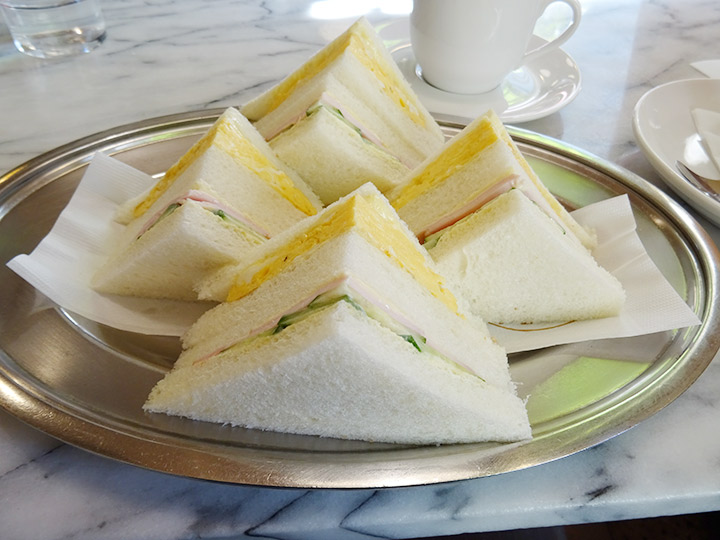 I also had their custard pudding because I had seen good reviews online.
I liked the simple presentation—pudding in a little parfait cup, served with whipped cream and a cherry on the side. The eggy flavor of the pudding made me nostalgic. A rather strong coffee went well with the semi-sweet pudding.
They offer a long list of parfaits on their menu and, if need be, the plastic food display just outside of the café entrance can help you decide what you want.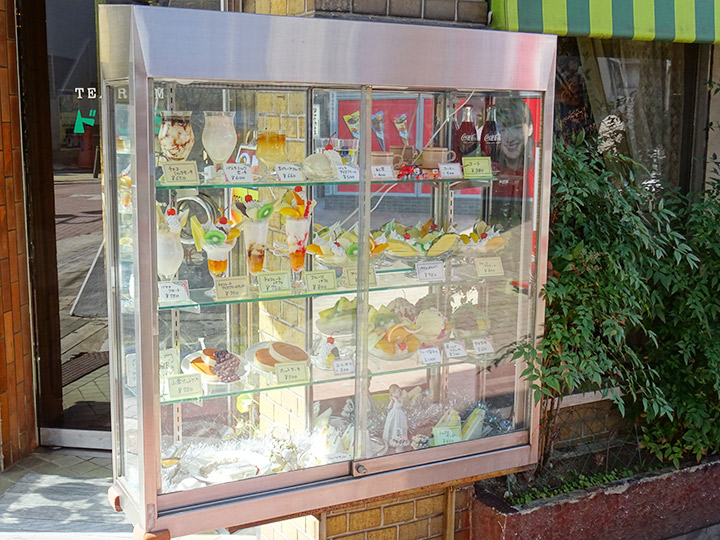 Their popular "morning set"—a set breakfast menu at kissaten—is served until noon, perfect for starting the day or an early lunch. Or, you can finish the night off with a parfait before their last order at 10pm.
Spots Introduced
[Access] About 3 mins walk from Exit 1 at Hommachi Station.
[Hours] 9:00am – 6:00pm
[Closed] Tuesdays

[Access] About 3 mins walk from Exit 3 at Ebisucho Station.
[Hours] 8:00am – 10:30pm (Last Order at 10:00pm)
[Closed] Tuesdays

Recommended Plans
Kakigori, a bowl of shaved ice served with sweet syrup and other toppings, is a summertime …
2020.07.17
In Part I of my story, I got my Osaka Bike Share bike at Osaka Metro's Shinsaibashi Station, …
2020.04.17
Have you seen the ship shaped building on the riverbed of the Shirinashi River in Taisho? The …
2020.02.28