One Day of Historic Osaka
– Osaka's Street Art Murals –
2022.07.01

Written by: Nulek(ヌレック)
● Osaka's "Town of Art", Kitakagaya
สวัสดี!
I'm Nulek. I'm from Thailand.
Osaka is a city of culture. It's home to numerous museums and art galleries of various sizes and genres and even the street art scene is robust. Today, I'm taking Osaka Metro around the city and show you the best street art murals in Osaka. Osaka Metro's one-day pass called Enjoy Eco Card comes in handy on a day like this. For 820 yen (weekdays) or 620 yen (weekends & holidays), you get unlimited rides on Osaka's subway network for a day. Simply purchase the pass at a ticketing machine at any of Osaka Metro's stations.
I first headed to the Kitakagaya area, known as the "town of art" in Osaka. Factories and older housing crowd together in this what used to be a town of shipyards. Street murals scatter right around Osaka Metro's Kitakagaya Station.
I had this Kitagaya Chaos map to help me spot the artwork around town. You can get it at Kitagaya Station and neighboring shops, or simply download it from the URL below. It's like a little friend that lets you navigate the "chaos" of Kitakagaya seamlessly and find artwork as well as galleries and cute shops.
URL
https://chishima-foundation.com/wp/wp-content/uploads/2021/07/chaosmap2022.pdf
The little friend also comes in handy when you get a little thirsty or hungry because you can get a good idea of available food options in one easy glance.
With Kitakagaya Chaos map in one hand, let's go explore the Kitakagaya Wall Art Murals!
I first came across this huge wall of impressive mural in a neighborhood full of factories. This mural of alphabets was made by Ben Eine, an English artist based in London. It is gigantic, you'd need a wide angle lens to capture the entire mural in one picture!
Next to Eine's work were a smaller mural of captured heroes. Makes it interesting they're painted on a factory wall.
A boy appeared on this wall when the neighboring house was taken down and a parking lot was created. "Hmmm, which one…?" The boy is apparently trying to decide which one of the cars parked in the lot he wants to play with. I like that the parked cars are part of the art.
Friendly aliens watch over you from his 100 meter wall. "b. friends on the wall" was made by b., a Greek artist. Walking along this wall, I felt the urge to skip a little.
This popular piece was done by MASAGON, an Osakan street artist who has an atelier & gallery right there in Kitakagaya. Cute faces painted with bright colors on a wavy wall were adorable♡
Look, I found a cute manhole cover. The yellow duck surrounded by water and Sakura cherry blossoms on the manhole cover represents the giant floating rubber duck sculpture by Florentijn Hofman, which travels around the world and appears in Osaka every year at the famous Suminoe Art Beat Festival held in Kitakagaya every November.
Let's check out this cafe, too…
The girl is bold. She's scribbling over the Mona Lisa! Pink patterns in the background makes this precious.
Look! Can you tell these are fire hydrants?
● Chidori-Bunka: Community Center x Art Space
Walking around Kitakagaya made me hungry so I checked my Kigakagaya Chaos map and found Chidori-Bunka. A 60 year old bunkkajutaku, a Japanese house that incorporated Western elements, was renovated to create a community and art space with a cafe, bar, shop and galleries. Iwith an empty stomach, I went straight to the cafe.
I was enjoying a nice, relaxing atmosphere…
And voila! My lunch was on the table.
A Dutch baby pancake with prosciutto and mozzarella cheese!! I didn't know what a Dutch baby pancake was —that's why I ordered it—but it was a hit!
The thick pancake that uses lots of eggs and baked in the oven was fluffy on the inside and crunchy on the outside. The texture reminded me of puddings or French toast. I could definitely appreciate the eggs in this dish. Savory prosciutto and sweet maple syrup were a perfect combination. It looked big, but I had no problem finishing it. I highly, highly recommend it.
I went up the stairs to the gallery after lunch. I could see the remnants of the bunkajutaku in a room filled with the work of a Japanese artist, Teppei Kaneuji, whose work has been exhibited around the world.
Chidori-Bunka was an interesting space. I enjoyed it.
The borutanext5 exhibit at Chirodi-Bunka Hall
Kitakagaya brings together an old townscape and an art scene.
I liked being in somewhat familiar, comfortable environment and seeing the new art pieces that are constantly being created. I think I'll come back to spend more time with art here♪
● America-mura & Semba Mural Park
A quick ride on Osaka Metro Yotsubashi Line took me to Yotsubashi Station. Here in America-mura, the center of Osaka's youth culture, you will come across an array of street art.
"PEACE ON EARTH" by Seitaro Kuroda and Keisuke Nagatomo is a well-known piece that has become a symbol of America-mura.
A bird carrying an important message to the world is about to take off. I think the style and colors of this work match well with the culture of America-mura. This mural has been here since 1983 and is a sacred spot for Osaka's street art.
I went back to Yotsubashi Station and took the Yotsubashi Line to Hommachi Station then transferred onto the Chuo Line to get to Sakaisuji-Hommachi Station where the Semba Center Building packed with wholesalers is located. In the underground walkway between Buildings No. 3 and No. 4 of the Semba Center Building is an art space created by the Semba Mural Project in 2020. It's called Semba Mural Park.
Walking down the stairs to the underground passage, you walk into this beautiful art space. This work was done by Yuhei Takahata.
The gaze of this attractive woman by THRREE stopped me. She was so real.
Here's a modern version of one of the Great Unifiers of Japan, Toyotomi Hideyoshi, by BAKIBAKI.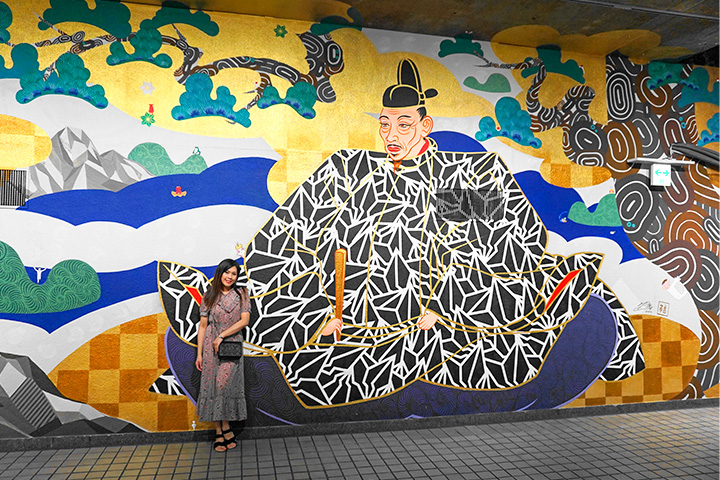 Beautiful wall arts make it easy to take good pictures.
Even a boring grayish staircase can look cool.
Here's an interesting fusion of art and Japanese calligraphy done by an artist, hitch, and a calligrapher, MAMI. The writing looks like flowing water and is beautiful.
A little table set in the walkway was perfect for taking time to enjoy the artwork. I even grabbed tea from a convenience store at the top of the stairs. This would be an excellent way to take a break from shopping at the busy Semba Center Building.
※Note: No alcohol is allowed in the walkway.
● The Yodokabe Project
After the stimulating yet peaceful time in the underground walkway, I took the Midosuji Line from Hommachi Station to Nishinakajima-Minamigata Station. See, I'd been curious about this mural by the Yodo River. I see it all the time when I ride the Metro.
This piece below is one of the many murals of the Yodokabe Project, a wall art project to make Yodogawa Ward a creative space for art. This mural was made in honor of Taro Okamoto by DOPPEL, an artist unit of BAKIBAKi and MON. Vivid murals like this pop up out of nowhere as you walk about the streets and alleys of the residential area of Yodogawa Ward. A little nature of the Yodogawa River bank makes a nice contrast.
This work is of LANP, an artist who lives in Yodogawa Ward.
A nice, summery sunset extends along the Yodogawa Dori Street.
Next to that is a colorful mural by borutanext5. I think these are dogs…? I'm not sure what they are but these cute characters make you feel warm and fluffy.
BAKIBAKI, who initiated this whole project, created this mural of Florence Nightingale in appreciation of the hard work and dedication shown by the medical professionals during the pandemic.
It's as if the distinguished, caring Nightingale is looking over the City of Osaka.
More street art murals are scattered around Yodogawa Ward. Some are located a little farther but definitely worth the time and a little trek. I believe their plan is to create more art going forward. The mural map on the project's official website can help you find these fantastic street art.
I spent a whole day exploring the city for street art murals. It was refreshing to be so close to wonderful artwork and, at the same time, find another, fascinating side of Osaka. It was fun!
Enjoy Eco Card came in super handy—it was easy to use and so convenient for a day of hopping the Metro to explore the city. And, best of all, it saved me about 350 yen
Osaka has a lot more art to offer. Join me in exploring Osaka's art scene!
Recommended Plans
Manholes can be found everywhere in every city and has an important task of …
2023.03.31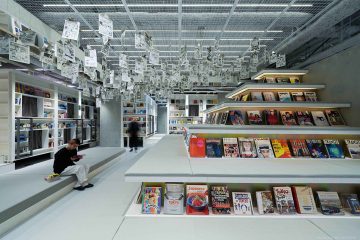 Offering a collection of about 4,000 books covering a wide range of genre, Book and Bed is, as …
2023.03.24
Spring is almost here. Soon, Sakura cherry blossoms—"spiritual beauty"—will be in full bloom …
2023.03.10
Kitakagaya
Yotsubashi
Shinsaibashi
Shinsaibashi
Sakaisuji-Hommachi
Sakaisuji-Hommachi
Hommachi
Hommachi
Hommachi
Nishinakajima-Minamigata