Temple Hopping on a Bike Part II:
Café, Deity of Romance, and Samurai
Part2
2020.04.17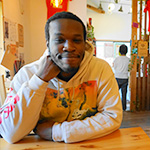 Written by: andy(andy)
● My First Taco Rice at a Café on Temple Grounds!
In Part I of my story, I got my Osaka Bike Share bike at Osaka Metro's Shinsaibashi Station, headed to Matsuyamachi then south from there, exploring a street lined with many temples.
It was fun to discover the characteristics of each temple I came across.
And here's the continuation of my fun day…
It was almost lunch time and I was getting really hungry, but I didn't want to stop temple hopping. So, I headed to a temple that has a café!
Café Kokoro Hikaru is located on the grounds of Shinkoji Temple.
A renovated house with table and chair seatings as well as tatami straw mat rooms with low tables, Kokoro Hikaru provides a comfortable home-like atmosphere.
Their menu offers a variety of items including teishoku—a Japanese set meal where all dishes of the course are served together—which are usually convenient and good value. I ended up ordering Taco Rice, though, because I had never tried it before.
I had no idea what to expect.
What showed up in front of me was basically tacos with rice instead of tortilla (or taco shells)—a bowl of rice served with plenty of spcied minced meat, avocado, tomatos and cheese, and it was topped with a fluffy meringue-like egg.
The egg just melted and disappeared in my mouth. It was an interesting sensation.
I liked the Taco Rice. It was good. I highly recommend it if you haven't tried.
● Aizendo: Deity of Romance
I got back on my bike after lunch.
I went up Aizen-zaka hill and found another temple, Aizendo Shomanin Temple, known for its deity of romance.
Can you see I'm trying to make a ♥ with my fingers in the picture?
Near the entrance is a tree called Aizen Katsura. The way the vines wrap around this unusual looking tree is supposed to be representative of lovers' embrace. It is said couples who visit this temple together will overcome any hardship.
How romantic is that?
I also found a rock that fixes backaches…?
The rock had a pointy part that did feel good on my back like a massage would…but I'm not sure if I believed it miraculously cures backaches.
This is me, sitting on a philosopher's chair, which was another rock.
● A Bike and Unique Temples, A Great Day
With the help of gears and electric assist features on the Osaka Bike Share, I managed the long slope of Kiyomizu-zaka with ease.
The waterfall here is sacred and apparently some people come here to practice meditation sitting under the waterfall. I wondered what that'd be like—I'd think it'd be cold??
I stopped at Yasui Shrine at the bottom of Tenjin-zaka.
There was a statue of Sanada Yukimura, a samurai warrior known for leading the defending forces during the Siege of Osaka in early 1600s.
I saw a bunch of coins lined up in groups of six in front of the statue but am not sure if there was any significance.
Isshinji Temple sat on the other side of Ou-saka, the last of the Seven Slopes of Tennoji, which is now a national highway.
The modern looking Kingo Rikishi statues, the guardians of the temple gates, were dynamic.
I went into the main hall that was just gorgeous with its golden buddhas and decorations.
To me, it felt more exotic, a bit different from my image of Japan.
No photos are allowed inside the hall, so you'll have to go see it yourself.
Many people were there praying, lighting candles and incents, in a solemn setting.
This area was surprisingly full of temples and shrines, both big and small. It was interesting to see the different characteristics.
I had no idea I could explore so many shrines and temples without going to Kyoto, right here in Osaka!
When I got to Tennoji Station where I had planned on catching a Midosuji-Line train to go home, I quickly searched and easily found a Osaka Bike Share station nearby.
Returning the bike is easy. Just dock the bike and lock it. And don't forget to press Return on the control panel to complete the return!
I had a great day on my bike. Still it was nice to have the option of taking Osaka Metro home, with the bike docked safely at the station behind me.
After I get some rest, I think I'll go again to discover more of Osaka from a bike!
Related Articles
Off-The-Beaten-Track:A Historic Walk in Tennoji
※This article is based on the information at the time the reporter experienced(3/20).
Recommended Plans
สวัสดี! I'm Nene. I'm from Thailand. My interest in Japan began …
2022.06.17
In February, Osaka welcomed the long-awaited Nakanoshima Museum of Art, Osaka to its vibrant art …
2022.04.22
Merhaba! I'm Hamza. I was born in Turkey but raised in Osaka until I was 18. I live in Turkey …
2022.02.18