My Little Taiwan in Osaka♪
Shopping & Gourmet at Abeno Harukas' Shinno Seikatsu
2022.02.10

Written by: Nulek(ヌレック)
● Popular Taiwanese Lifestyle Store Opens in Osaka
สวัสดี(Sawadee)! I'm Nulek. I'm from Thailand. I came to japan 5 years ago to study Japanese.
I love good food and cute goods, and I love Osaka because the city is full of what I like♡ I heard a new spot on the 10th floor of Kintetsu Department Store Abeno Harukas near Osaka Metro's Tennoji Station sells yummy food and cute goods from Taiwan, so I went to check it out.
A popular lifestyle store in Taiwan, Shinno Seikatsu, greets you as you step out of the elevator on the 10th floor.
Perhaps you've been to one of their locations in Taiwan before? Shinno Seikatsu, aka Maji Treats, is a popular shop in Taiwan.
The stylish store offers a variety of products that have long been part of people's lives in Taiwan, from traditional Taiwanese food to home goods. Shelves are neatly lined inside the store, and various food items stacked on the shelves have cute packaging and look as they're a decoration or something.
Look! Isn't it impressive?
If you're a fan of soy sauce, you'd be in heaven. Pictured below are, an entire shelf of soy sauce!
These jars with simple, sleek labels are Shinno Seikatsu's original series of condiments that use seafood. Golden caviar sauce, top scallops sauce…product names alone sound delicious. They make a great helper in the kitchen. Eat it straight out of the jar, use it to flavor your stir fry, or top your rice with it—they're almighty. No wonder they're the top sellers of this store.
And check these out! Hot bean sauce is a mix of two distinct hot sauces, Korean Gochujang and Chinese Chili Bean Sauce. Where else could you find something like this for a price of only 162 yen?!
Hot bean sauce originally came to Taiwan from Sze Chuan, China, and it's all you need to make the perfect Mapo Tofu. I had no hesitation. I bought one.
Here're a whole variety of instant noodles, dry noodles, cup noodles, you name it. I like the spicy ones. How about you?
Pineapple cakes are a staple of Taiwanese souvenirs. Shinno Seikatsu carries many different kinds, and they all looked good♡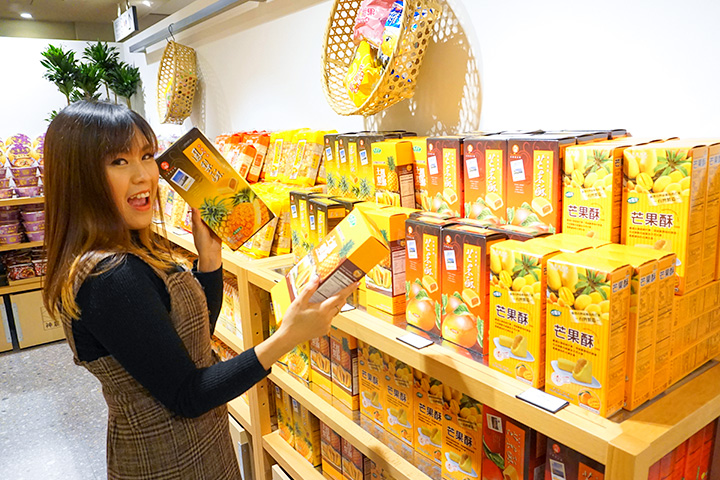 Jams, honey, fruit flavored Taiwanese beer, goji berries, dried fruits… the lineup of fruit products is endless here, as one'd expect from the "Kingdom of Fruit" Taiwan! And, needless to say, all fruit products looked great♪
This corner is dedicated to products of a Taiwanese skincare brand, Yuan Skincare & Soap. Their soaps made with 100% natural herbs and other all-natural ingredients are great for your skin.
And here, Home goods are all so stylish. I like the simple, chic designs. I'm happy just being surrounded by these products.
These old school cleaning supplies below are made of all natural materials. I like these older designs—I see in them how people used to take time to take care of things. They look almost too nice to use for cleaning, though. Maybe I'll just display them as decor instead lol.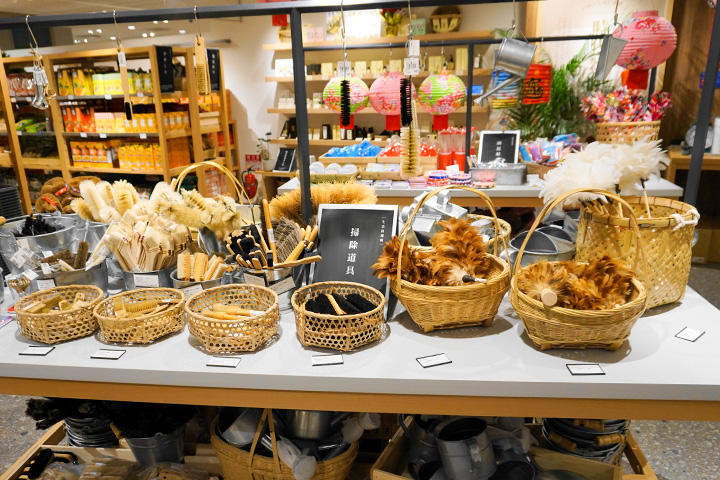 I found tableware, glassware, and even some old school Tatung rice cookers! Simple and tasteful, I love the cute design.
I can feel Taiwan in these colorful crafts. I bet hanging just one lantern would brighten up the space.
The most popular non-food item at Shinno Seitatsu is this eco bag made with nylon fishing nets. In Taiwan, they're called "mama's Louis Vuitton" lol. The Shinno Seikatsu logo in the middle nicely accentuates the colorful stripes. Take one with you, and you can bring your shopping experience up a notch 🙂
● Authentic Taiwanese Home Cooking
After a morning of shopping, I went next door to Shokushu where you can savor authentic Taiwanese cuisine. Operated by Shinno Seikatsu, this is a super popular restaurant at their main location in Taipei.
After seeing so many Taiwanese groceries, I was totally ready to eat Taiwanese food.
What shall I choose from the robust menu?
※Menu may change seasonally.
It was pretty cold out, so I chose Taiwanese vegetable soup (1,320 yen), recommended by the restaurant staff.
It was served as part of as a set menu with rice, two side dishes, and a salad. Itadakimasu!
The soup was nice and warm and contained ginger and some 10 kinds of vegetables including lotus seeds, wood ear mushrooms, goji berries, Chinese yam, kabocha squash, and even some rare bamboo mushrooms. The gentle flavor permeated through my whole body. I could see why this popular soup gets sold out quickly all the time.
Rose roselle soda (660 yen)—which would be superb on Instagram—was perfect for refreshing my palate. The combination of rose's faint aroma and roselle's tartness was exquisite and lemon sorbet was delightful. The little glass jar with the Shokushu logo used to serve the soda was really cute, too.
I always have room for dessert♥
I ordered warm grass jelly soup (692 yen). In my country Thailand, we usually serve grass jelly desserts cold. I didn't realize grass jelly would make a nice soup when it's warmed up. In it were rice flour dumplings, Japanese sweet potato dumplings, tapiocas, and crunchy peanuts to give it a texture. It was good warm, and it was good after it had cooled down when grass jelly was starting to thicken, creating a creamy texture. It was a strange feeling—I didn't necessarily expect Taiwanese cuisine to remind me of home, that warm feeling I'd known for a long time.
● The Oolong Market
Next stop was the Oolong Market across the hall where they sell a collection of popular tea from Taiwan. In addition to tea, they carry neat tea ware and snacks.
Their collection boasts more than 100 kinds of Taiwanese tea. All of them are rarely found in Japan. Tea snacks also come in wide variety—these cute moon cakes below caught my eye. Not only the flavor but also the appearance of these tea is definitely first class. Any of them would make a great gift. Even their shopping baskets are cute, making me an enthused shopper. Pick up one of these colorful baskets and join me in finding a favorite tea!
In the tea salon area, you can try different tea and find your favorite.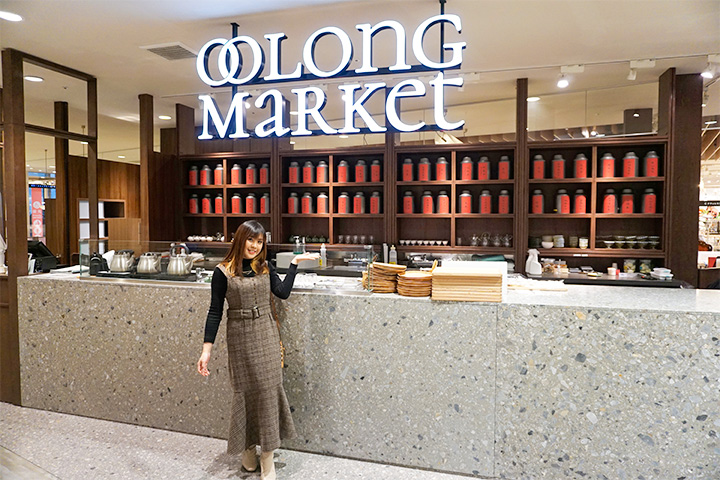 I asked the staff to help find a good tea for me.
They recommended Honey Flavored Black Tea for me. With a heart shaped moon cake. Different kinds of little tea ware were brought out and got me excited. The staff carefully explained how to prepare the tea, building up my expectation.
I waited one whole minute until all the sand fell in the sandglass. The tea was then poured into a tea pot called chakai (literally "tea sea"). This step helps balance the strength and the temperature of the tea.
Mmmm. What an aroma…♡ A fruity, sweet aroma. It was calming and relaxing. A cup of Taiwanese tea to finish off the day. It was beautiful.
● Bring Taiwan to You♪
I wasn't going to end my Taiwan experience there and brought home some Taiwanese ingredients. I cooked up some ground beef with the hot bean sauce I purchased from Shinno Seikatsu, put it on top of the noodles also purchased from Shinno Seikatsu, and topped it with some bean sprouts…Voila! I had a plate of beautiful spicy Taiwanese noodles! Szechuan pepper is one of the best sauces of wonderful spiciness, and this easy made dish tasted authentic. The hot bean sauce also gave the meat an authentic flavor. I was impressed♡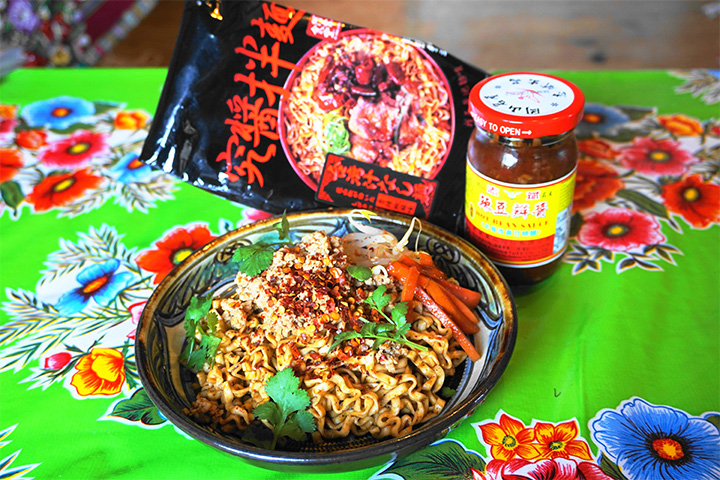 Shinno Seikatsu is like a great friend that helps you experience the true Taiwan in Japan. Since it's located within Abeno Harukas, getting there is super easy. Stop by when you're in the area!
※Masks were taken off temporarily for photo shoots.
Spots Introduced
[Access] A short walk from West ticket gate at Tennoji Station.
[Hours] 10:00 am - 8:00 pm ※Store hours may change without notice.

Recommended Plans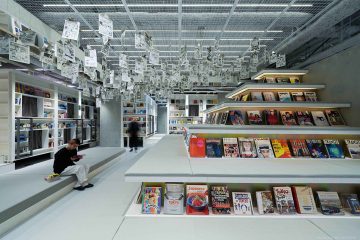 Offering a collection of about 4,000 books covering a wide range of genre, Book and Bed is, as …
2023.03.24
สวัสดี! (Hello!) I'm Nene. I'm from Thailand and I live in Osaka. I love anime, manga, food…and …
2023.02.10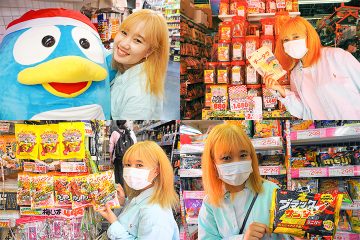 สวัสดี! (Hello!) I'm Nene. I'm from Thailand. I live and work in Osaka and love everything …
2023.02.03