SPECIAL
Discover OSAKA
2022 Count Down the Japanese Way—
The Temple Bell on New Year's Eve in Osaka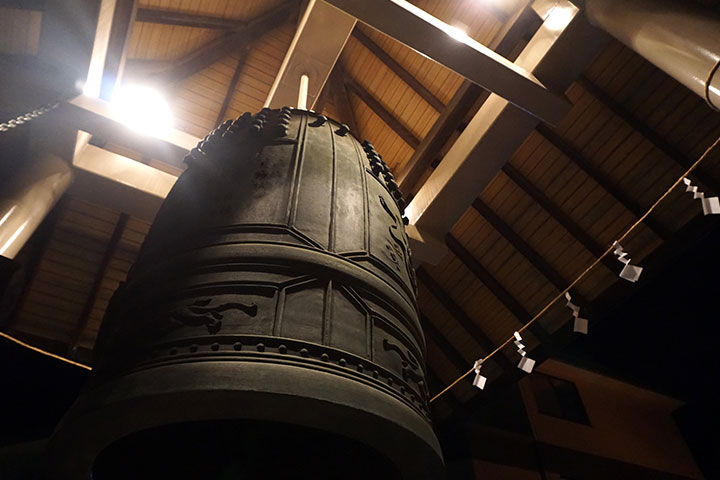 2022.12.16
Already, 2022 is coming to an end and the beginning of a new year is approaching.
Each culture has its own tradition for welcoming the New Year. In Japan, it is customary to listen to Joya no Kane, tolling of temple bell on New Year's Eve. The gongs of the bell on a quiet night are remarkably solemn and mystic.
In recent years, some temples began offering visitors to take part in this beautiful tradition. On New Year's eve this year, take Osaka Metro and go experience the temple bell to finish off 2022!
※Some events are cancelled this year to prevent the spread of the novel coronavirus. Please check the official homepage for the event for most updated information.
※Osaka Metro will operate on weekend/holiday schedule on December 30th through January 3rd. For details, please check the official website of Osaka Metro.
When and What Is Joya no Kane?
People of all (or no) faiths visit temples all over Japan on New Year's Eve. Joya no Kane begins ringing shortly before midnight and continues into the New Year. That means it doesn't ring just once, but it rings 108 times! The reason for striking the bell 108 times has roots in Japanese Buddhism. 108 is said to be the number of earthly desires—evil passions that mislead, trouble, and torment people. With each strike of the gong, you're cleansed of these sins.
Another theory behind the number 108 is about removing "shiku hakku (四苦八苦)," a 4-character phrase that means unavoidable pain. In Japanese, shiku sounds like numbers 4 and 9, and hakku sounds like 8 and 9. A quick calculation of these numbers—shiku (4×9=36) PLUS hakku (8×9=72)—brings you to 108.
Traditionally, listening to the gongs and watching monks around the country strike the large temple bell on TV or in person was all people did each year. In recent years, however, some temples began letting visitors strike the bell themselves. Wouldn't that be a cool way to welcome the New Year?! This year, unfortunately, many temples have cancelled such services, but even if that's the case, you can always enjoy listening to the beautiful sounds of the bell that ring throughout the city.
Here's a quick list of the temples in Osaka that are famous for the beautiful Japanese tradition on New Year's Eve.
Shitennoji Temple[Cancelled for 2022]
First up is Shitennoji Temple, located about 4-minute walk from Shitennoji-mae Yuhigaoka Station. Shitennoji Temple is said to have been built more than 1,400 years ago. There are three bell towers within its properties and the first 108 people get to ring the bell. Tickets are distributed at 11pm and, at 11:30pm, the first bell is struck and amazake—sweet, fermented rice drink—is served to 1,000 people (first come, first served).
Even if you don't make the first 108 people to strike Joya no Kane, they normally continue to let visitors ring the temple bell until around 3am to invite good luck and happiness in the New Year.
Kita Mido Temple[Cancelled for 2022]
Osaka's main street, Midosuji (literally "Mido street") Boulevard was named after Kita Mido Temple—a quick 2-minute walk from Hommachi Station—that hosts a grand Joya-kai, a New Year's Eve event every year. After the last service of the year is held at 11pm, visitors can ring the temple bell. Other activities will follow, and at 6am on January 1, Gantan-kai commences to celebrate the beginning of the year.
Taiyu-ji Temple
Located about 5-minute walk from Osaka Metro's Higashi Umeda Station, Taiyu-ji Temple belongs to Kōyasan Shingon-shū, a sect of Shingon Buddhism. Its bell has survived many wars and is said to bring good fortune financially. Many crowd the temple grounds on New Year's Eve and the first 108 visitors will receive a certificate to commemorate their experience of striking the bell.
Everyone who gets in line before midnight will be able to strike the bell even after the bell is struck 108 times and small mochi served to visitors adds a nice touch.
Dainenbutsu-ji Temple
If you want to go outside of the city center, Dainenbutsu-ji Temple in Hirano ward, located 7-minute walk from Tanimachi Line's Hirano Station, is another spot that offers the last service of the year and a nice Joya no Kane experience. Dainenbutsu-ji is said to be the first Buddhist invocation dojo in Japan, and its main hall is the largest wooden structure in Osaka Prefecture.
Services offered on December 31 each year are the New Year's Eve ceremony and the bell ringing. These services are held at two locations within the temple, the main hall and the Shoro bell tower where the first 108 groups (5 persons maximum, tickets required) can attend the ceremony. Visitors also enjoy sake served from a sake barrel as well as sweet red bean soup on New Year's Eve. (※Sake and sweet red bean soup will not be served this year.)
Reflect on your year as you listen to Joya no Kane and count down the Japanese way to welcome 2022!
Use the convenient Search Spots function to find hotels near the temples.
Recommended Plans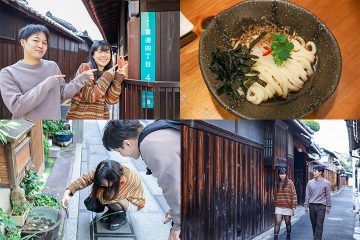 Hi! My name is Nasu. I came from South Korea to do Working Holiday in Japan. …
2023.11.24
Hello! I'm Nasu from South Korea. I love Japan and have studied the Japanese language …
2023.11.17
Hi! I'm Andy. I'm from the U.S.A. I'm fascinated with the wonders of Japanese temples and …
2023.04.28