Osaka Metro's COVID-19 Measures
To Ensure Safe Travel in Osaka
2021.04.30

Written by: Osaka Metro NiNE(Osaka Metro NiNE)
● Osaka Metro's Safety Measures Against COVID-19
Osaka Metro has implemented a number of measures to provide safe and comfortable services to subway riders and to prevent the spread of the novel coronavirus. Read on to learn more about Osaka Metro's safety protocols and added services.
Below are the safety measures taken at Osaka Metro's stations, trains, offices and counters.
・Hand sanitizer dispensers at ticket gates and service counters
We've installed hand sanitizer dispensers at ticket gates, lost & found centers, Osaka Metro information centers, and monthly pass sales offices at all Osaka Metro stations.
・Daily disinfection and deep cleaning of stations and trains
Every day, we disinfect and thoroughly clean the subway stations and vehicles, lost & found centers, Osaka Metro Information Centers, and Monthly Pass Sales Offices.
・Anti-droplet plastic barriers at ticket gates and service counters
We have installed plastic barrier curtains at service counters at stations and PiTaPa counters in Umeda, Namba, and Tennoji Stations to minimize droplet transmission while serving customers. All station staff are required to wear a mask.


・Improved ventilation through open windows on trains
We're operating all subway lines (except for New Tram) with two open windows at the ends of each car for better ventilation.


・Request for face coverings and staggered commute
Through annoucements at stations and on trains, we are asking all metro customers to wear masks, practice coughing etiquette, wash hands, and refrain from conversing on trains in order to keep everyone safe. We also request that customers utilize staggered commute time and remote work when possible to help distribute ridership throughout the day.
● Stations Respond to the Novel Coronavirus
Osaka Metro's stations are also making efforts to support and work with customers to prevent the spread of the novel coronavirus and overcome the pandemic together. Here're a few of these efforts.
Between Umeda and Esaka Stations, you will see posters of Amabie wearing Osaka Metro uniforms.
Amabie is a legendary Japanese yokai (supernatural monsters from Japanese folklore) that drives off plague and evil. Since the pandemic began, many in Japan drew Amabie to pray for the early end of the pandemic and the pictures of Amabie have been widely shared on social media.
Osaka Metro's Amabie is an original work of a staff at Shin-Osaka Station. This cute Amabie in uniform is there to protect the City of Osaka.



* Photo taken in September 2020

Degital screens at Umeda Station's platforms display messages to the healthcare workers. We thank all healthcare workers who are risking their health to fight the pandemic in the front line every day.
● Ensuring Safe Travel in Osaka
With these safety measures and protocols taking place in the metro network as well as at metro stations, we hope to prevent the spread of the novel coronavirus and pray for the early end of the pandemic. We will continue to work to ensure safety for our customers.
While it's difficult for international visitors to come to Osaka right now, we hope we can welcome you here in Osaka soon and that you will enjoy traveling in Osaka.
With that in mind, Osaka Metro NiNE will continue to share the stories and charms of Osaka with you and provide suggestions and tips for enjoying your trip to Osaka.
Greetings from Osaka:
We're Here and Well Despite the Pandemic Here
https://metronine.osaka/article_tour/20200722-minami/
Recommended Plans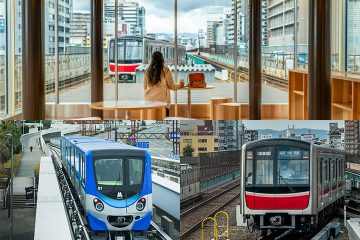 The colorful train cars of Osaka Metro attract railway enthusiasts and others to take …
2023.08.25
Welcome to Along the Osaka Metro Lines series which showcases the characteristics and …
2021.05.14
Along the Osaka Metro Lines Series showcases the characteristics of Osaka Metro's seven …
2021.02.19