Osaka Art Walk in Nakanoshima
2023.04.21

Written by: TK(TK)
● Osaka's Art District
Last February, Osaka welcomed the long-awaited Nakanoshima Museum of Art, Osaka to its vibrant art scene. It had been 40 years since its conception. With a number of top-notch museums as well as beautiful representations of modern architecture, the Nakanoshima area where the new modern sleek museum building resides is Osaka's top art district. Taking a simple stroll in this area is an excellent way to enjoy the arts and architecture that Osaka has to offer.
● Nakanoshima Museum of Art, Osaka
Reason to Visit No. 1: The Black Cube & the Giant SHIP'S CAT
The first thing you notice about the Nakanoshima Museum of Art, Osaka is its black cubic exterior. It looks quite different from those historic buildings or all glass modern buildings that are typically found in museums. The cool, chic design has a presence that stands out in Nakanoshim'as sea of buildings.
Visitors to the museum is welcomed by SHIP'S CAT created by a contemporary artist, Kenji Yanobe, at the entrance. The area where the new museum stands was the site of clan warehouses where a stream of ships came and went during the Edo period, and SHIP'S CAT was designed after ship's cats that used be carried on ships during the Age of Exploration as the ship's protector.
Reason to Visit No. 2: Impressive Collection of Artwork
Forty years didn't just pass while awaiting the grand debut of the new museum. It was also time to build its massive collection. The collection of more than 6,000 artwork includes both Japanese and international works, from the famous modern art works by Yuzo Saeki and Amedeo Modigliani to modern and contemporary works by Henri de Toulouse-Lautrec and Alphonse Mucha. Some artwork has increased its value by more than ten-folds since the time of purchase, including Reclining Nude with Loose Hair, an oil painting by Amedeo Modigliani below. It was acquired by Osaka City in 1989 for 1.93 billion yen—you might recall it made the news as the highest valued artwork purchased by a local government. Today, it is valued at over 20 billion yen.
Reclining Nude with Loose Hair by Amedeo Modigliani
1917. Nakanoshima Museum of Art, Osaka
● The National Museum of Art, Osaka
Reason to Visit : A Subterranean Museum
The National Museum of Art, Osaka is located right next to the Nakanoshima Museum of Art, Osaka. Originally opened in 1977, the National Museum relocated to Nakanoshima and reopened with most of its facilities located underground. The museum boasts a collection of Japanese and international contemporary artwork, about 8,000 works including works by Tadanori Yokoo, Yayoi Kusama, Pablo Picasso, and Paul Cézanne.
Daring, silver facade was designed by an Argentinian-American architect, César Pelli, and represents the vitality of bamboos and the growth and development of contemporary art. Pelli is known for designing skyscrapers including, in Osaka, Abeno Harukas in Tennoji. While the three floors of the museum are all underground, the building design ingeniously allows for the natural light above ground to create a bright space inside the museum.
● Osaka Prefectural Nakanoshima Library
Reason to Visit No. 1: Neoclassical Masterpiece
Nakanoshima is full of modern architecture and the Osaka Prefectural Nakanoshima Library built in 1904 is a notable example. Designated as Japan's important cultural property in 1974, the exterior of the building is Neo-Renaissance style and the interior is based on the Baroque style.
As you step into the building, the beautifully curved dome in the central hall catches your eye. Colorful stained glass and the stately staircase in the center remind you of a cathedral in the West…except that the use of wood in the staircase and corridors—instead of marbles typically used in the West—makes it distinctly Japanese.
Reason to Visit No. 2: Scandinavian Farm to Table Café
Smørrebrød is a traditional Danish open-faced sandwich made with rye bread topped with various ingredients such as seafood and vegetables. It's served at smørrebrød kitchen nakanoshima on the second floor of the Nakanoshima Library, one of the few restaurants in Japan that specialize in smørrebrød. Chic interior of the café uses wood and green, creating a relaxing space for a break after a stroll. I tried their dessert smørrebrød and seasonal strawberry drink. Another fun option to enjoy the delicious sandwich is a picnic in Nakanoshima Park with a takeout from smørrebrød kitchen.
● Other Places Not To Miss
Daibiru-Honkan Building
Current Daibiru-Honkan Building built in 2013 is a reconstruction of the original Daibiru-Honkan Building which was completed in 1925. The letter box inside is the original from 1925. The building is busy during lunchtime with many guests who visit its restaurants and cafés.
Bank Of Japan Osaka Branch (Old Building)
Built in 1903, Bank of Japan Osaka Branch was designed by a top architect of the Meiji era, Kingo Tatsuno, who also designed Tokyo Station's red brick station building.
Nakanoshima Children's Book Forest
Nakanoshima Children's Book Forest was designed by an internationally renowned architect, Tadao Ando. Advance reservation is currently required, but anyone can go see the Green Apple sculpture at the entrance. It symbolizes youth, the wish to stay "immature" like a green apple.
It is a great season for a nice afternoon stroll now. Come out to Nakanoshima during the Golden Week and enjoy the gorgeous architecture, arts, and gourmet food of Osaka!
▼Articles that may also interest you
The Best Views of Osaka on Osaka Metro: Architecture from the Age of Great Osaka
*The information in the article is for 2022.
Recommended Plans
One of the highlights of Osaka is its people and their warm, friendly character. Over its …
2023.09.29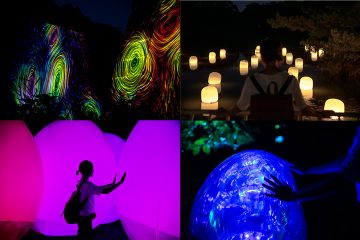 Hello! My name is fuji. I am a writer. Have you been to a botanical garden that is also an art …
2023.09.01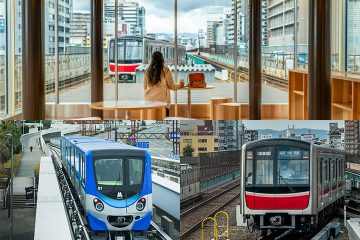 The colorful train cars of Osaka Metro attract railway enthusiasts and others to take …
2023.08.25