Completely Customizable, DIY Takoyaki!
2019.04.29

Written by: Sean Chumiecki(Sean Chumiecki)
● Takoyaki! A must-try food when you visit Osaka.
And if you want to take things a step further, take a trip to Takonotetsu so you can try grilling your own!
Literally meaning "octopus-grilled", these perfectly round octopus dumplings are a staple of street food in Osaka. They're hot on the outside, gooey on the inside, and full of flavor! We went to one of the Takonotetsu locations in Osaka to try our hand at grilling our own.
First things first, we selected from a variety of takoyaki fillings. Unlike standard walk-up takoyaki stands that allow you to pick the sauce and toppings, at Ta-konotetsu you actually get a choice of what goes inside your takoyaki. We, of course, love octopus! But for those of you who don't, Takonotetsu offers a se-lection of over 10 different combinations like the unusual "Tropical-yaki" in-cluding corn, cheese, & pineapple. We went with 2 styles that were completely new to us, the "Takonotetsu-yaki" that includes octopus, beef, & shrimp, and an order of the popular octopus/shiso/cheese balls.
Then step-by-step we oiled the grill, and started cooking our takoyaki selection while sprinkling on tempura crumbs and red ginger to our liking. Next we picked up our "hari" metal pokers, the essential tools for shaping and flipping the takoyaki. With a thorough English guide in hand and some kind assistance from the staff, we managed to make and eat 24 takoyaki for lunch. It was easy! Anyone can make perfectly round takoyaki the very first time. They were abso-lutely delicious and fun to make too!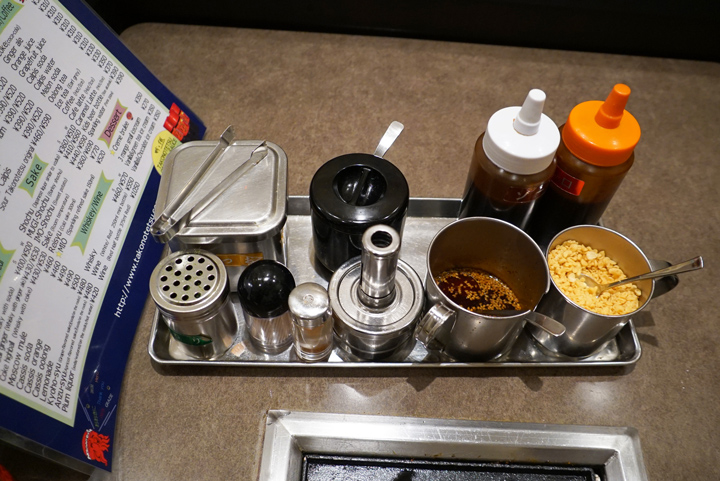 Spots Introduced
[Access] About 4 mins walk from Exit 17 at Umeda Station.
About 4 mins walk from Exit 3 at Nishi-Umeda Station/Exit 3 at Higashi-Umeda Station.
[Hours] Monday to Saturday 11:00-23:00.
Sundays, public holidays: 11:00-22:30
[Closed] Open daily

Recommended Plans
Some call it a savory pancake, some call it Japanese pizza. Okonomiyaki is a staple Osakan food …
2020.06.26
Many have tried the Osaka staple, takoyaki and okonomiyaki. But do you know about …
2020.01.31
Sometimes referred as "aquapolis," city of water, Osaka's development historically relied on its …
2020.01.10