Daytime Bar Hopping in Tenma, Osaka♪
2023.01.20

Written by: Daniel(Daniel)
● Ura-Tenma: A Sacred Hashigo-zake Spot
Hi! My name is Daniel.
Seven years ago, I moved to Osaka from California, U.S.A. Japan's food culture fascinates me and I've been training to be a chef at a hotel restaurant in Osaka.
One of my favorite things to do is—as you might expect—eating! On my days off, I travel anywhere and everywhere to find good food.
The Tenma area is known as one of the best spots for eating and drinking in Osaka, whether you're going solo or with a group of friends. I thought I might spend my day bar hopping (called Hashigo-zake in Japanese) in Tenma today♪
Several stations serve the Tenma area, but today I took Osaka Metro to Ogimachi Station.
It was about 2:30pm when I arrived. I was all ready for an afternoon of good drinks and good food!
● Sushi Avalanche!
My first stop was a sushi shop simply because I love sushi. Kotobuki Tsukasa is casual and stylish. A cute sushi neon sign out front is easy to spot. I liked their outside seating area (rare sight for a sushi shop) and I found the place comfortable.
I took a seat at the counter where I can see the sushi toppings. Orders are taken through your cell phone using the QR code. I got a little nervous because it's all in Japanese, but the staff was nice and came to rescue.
I love sitting at the sushi bar. It's exciting to see all sorts of fresh fish in front of me, and I especially enjoy watching the sushi chefs at work.
I wondered what my sushi will be like… I couldn't wait!
The reason I was so excited is because I ordered what they call Nadare-zushi.
Literally meaning "sushi avalanche", Nadare-zushi is a mountain of sushi. A sushi roll is placed on the bottom and it's topped with a bunch of neta toppings like salmon, tuna, negitoro (minced tuna), salmon roe…
Just watching them make Narade-zushi was amazing, especially because I was seated right in front of the chef who made mine. It really did look as if I was about to witness an avalanche!
Look at this! My friends will be envious when I post this on Instagram. There was so, much, fish!!
It had a pretty good weight. And, yes, I took tons of pictures✌
There was no time to waste. Itadakimasu!
BUT…I wasn't sure how and where to start…lol
So I just dug in. …And caused an avalanche. (lol)
I didn't care, though. I just went ahead and took a big bite of the good lookin' fish and continued on to the sushi buried underneath. Each bite brought into my mouth the umami of seafood. I've had sushi in different places but sushi in Japan is just different. It's fresh and exquisite.
Nadare-zushi at Kotobuki Tsukasa is priced at 1,980 yen. It's not cheap but with so much fish that fills you up, you definitely get your money's worth. I highly recommend it. If you want to try other sushi, they are all excellent and very much affordable, too! Nigiri is only 80 yen per piece.
I came by here for a quick bite and a drink to start my day and ended up eating so much. (Oops.) But what else could I have done, at such a delightful sushi shop?!
● Pig Feet and Offal
Where do I go after excellent sushi?
I strolled around the alleys of Tenma and found a perfect spot. Kobayashi Shoten specializes in pig feet and offal. If you like this type of food, Osaka is a great place to be. If you have not tried them–I know these foods can be intimidating–they are actually nutrient-rich and tasty and can be found in many neighborhoods around Osaka for you to try.
Kobayashi Shoten was packed with customers but I got lucky and got a table.
The first thing I ordered was Tonsoku (pig feet)! So tender and juicy, the meat slipped off the bone when I picked it up with chopsticks.
The meat had soaked up all the flavors and it just melted in my mouth. It was so good, I ate it all in no time.
I'd recommend Kobayashi Shoten's tonsoku for first-timers or those who may not have had much experience with it. It was that good.
I also got a "half and half" order of Yakiniku (Japanese barbecue).
You can select two types of meat (half order each, suppose) and they're served with vegetables. Staff cooked them on the grill for me.
I picked Harami (skirt steak) and Koune (cow's shoulder).
Harami had a crunchy texture and was characterized by its umami-rich, intense flavor.
Koune is what you might call brisket. It had firmness yet refined quality. Koune is not easy to find at yakiniku restaurants in Japan but is full of collagen, which is sweet and produces lots of umami in each bite.
Vegetables cooked with meats was flavorful, too. Facing such good food, I ate a lot, again! (lol)
● The Lantern Street
I kept on walking and stumbled into the Chochin-dori (lantern street).
©Osaka Convention & Tourism Bureau
Lights are not on during the day, but they look like above at night. It'd make a great photo.
My stomach was pretty full so I strolled around the area a bit. Streets were busy with many people. I could smell delicious food whatever direction I walked, and in every spot I peeked into, I found good lookin' food.
● Making New Friends♪
I heard lots of excitement from an izakaya on one corner.
Outside seating looked nice for daytime drinking so I took a seat at Hokkori Dining Tanaka.
I should order only small dishes this time after my first stops. So, I was pleased when a small macaroni salad and Karasumi cooked with ginger were served as Otoshi. (Otoshi is a small dish(es) of appetizer that is served first at many Japanese izakaya for a small cover charge. It is uncommon to refuse otoshi in Japan.)
Karasumi is dried salted mullet roe pouch. It used to be just a preserved food, but today it is considered one of three great delicacies of Japan. It was my first time to try Karasumi. It tasted like one of those gourmet cheeses with a unique strong smell that captures you and makes you addicted.
As I sat there alone with my beer, a man with a big smile approached me. "Hello!" And our evening began. (lol)
His name was Isao-san. He said he is often out drinking in Tenma. He was fluent in English and told me about his love for Tenma. According to Isao-san, the best thing about Tenma is its lively, friendly restaurants and bars that are cheap yet delicious. I wholeheartedly agree. It was strange. It didn't feel like I had just met him.
People were friendly at the previous two joints too and I talked to my "neighbors" at both places.
It doesn't matter if you speak the same language. You can make friends easily especially when you are drinking! Tenma is a place where new friendships form every day. "I'll see you around!" I parted with Isao-san and headed to yet another izakaya.
● Going Hyper Local in Tenma
My last stop for the day was Tajimaya. With just one look, I knew it was a pretty local spot.
As soon as I entered Tajimaya, I noticed an impressive wall filled with long strips of paper, each with a menu item and its price written on it.
Sometimes, when you're overwhelmed by the menu or you just don't know what to order, it works just fine to point at other tables and order what other people are having. Or, of course, you can ask the staff for their recommendations!
My neighbor poured me a beer. Pouring each other's drink is a custom of Japan I like.
With chatters and other rustles made by people having a good time in the background, my beer tasted extra good.
This is Tajimaya's specialty, Doteyaki. Beef tendon simmered in miso was sweet and tasty. And it went well with drinks in winter.
I also had some Kushikatsu. It's one of Osaka's favorites as well as mine. Freshly fried, Tajimaya's Kushikatsu was hot and crispy. I loved it♪
So what do you think? Are you ready for an afternoon in Tenma, too?
Hashigo-zake is a distinct way to enjoy this great bar district filled with a variety of izakaya's and other establishments. Instead of lingering in one place, have a drink or two and nibble on their food, and move on. That's the way locals do it and that's the way a visitor can experience the real Osaka.
Many places in Tenma are open during the day and/or into late night. The more places you visit, the more interesting people you will meet.
I like Tenma at night, but Hashigo-zake during the day makes me feel I enjoyed the whole of my day off.
Daytime Hashigo-zake can also be your unique way to enjoy the city when you visit Osaka♪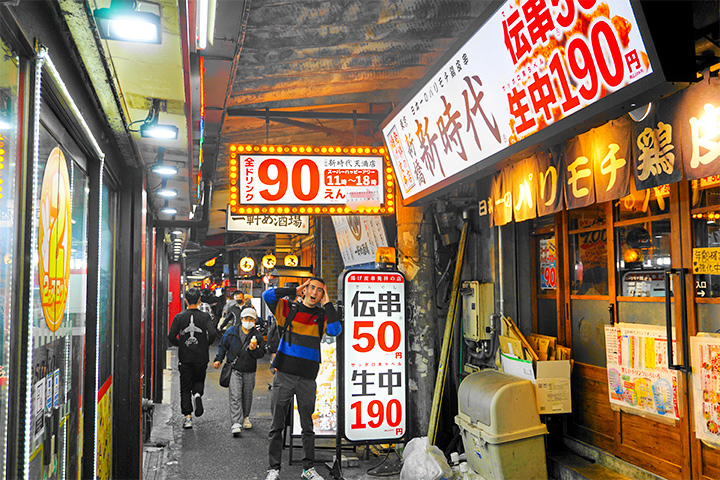 Look at all the possibilities! You will have a one-of-a-kind experience, guaranteed.
It's getting dark, but I'm hesitant to go home…
I'll have just one more drink. (wink wink, lol)
Recommended Plans
In Japan, Setsubun is the most famous seasonal festival in February. Setsubun celebrations are …
2023.01.27
It's still cold outside and the air is clear, so we took a trip to the top of Abeno Harukas for …
2022.11.25
Spring is here! Here in Japan, spring is when Sakura trees bloom and everyone gets out and enjoys …
2022.03.25