Guesthouse with a Japanese Garden
Once-in-a-Lifetime Experience at 「Carpe Diem」
2019.11.22

Written by: リナ(rina)
● In a Quiet Neighborhood, 7-Minute Walk from Midoribashi Station
Osaka Metro's Chuo Line and Imazatosuji Line ride into Midoribashi Station. In the area around Midoribashi remains a streetscape that takes you back to the Showa era, providing an ambience of the old times.
In this residential neighborhood where people of all age groups reside, there is an off-the-beaten-track guesthouse that not even the local residents know much about, yet popular amongst international visitors!
Walk about 600 meters northwest from Midoribashi Station. You will see a simple sign
"Carpe Diem" in a quiet and secluded neighborhood. The guesthouse is just down the alley from there.
A Quaint Japanese Garden Makes You Forget Time
Behind the solemn gates is a large Japanese garden that makes you awe in admiration. It is about 990 square meters in size.
Toro lanterns decorate the garden. Made in the Kamakura period (1185-1333AD), the tallest lantern in the center has historic value.
The view of the garden is graceful the longer you're there and lets you forget time. It is a perfect place to feel the good old Japan.
Their café with baked goods and coffee,「aie」, is open to non-guests and has a great view of the garden. I highly recommend relaxing and enjoying the view there while savoring the carefully selected coffees and homemade cakes. Make sure to check ahead though; the café is open only couple days a week.
Relax and Rest in a Japanese Style Room
The guesthouse is a renovated 70-year-old traditional Japanese house, and guests can choose from three types of rooms: a tea room with tatami (straw mats), a loft style room, and Japanese private rooms (with tatami) that can also be connected as one large room. All rooms are refined yet offer a comfortable space.
Make sure to check out the engawa—a narrow wooden veranda found in old Japanese style houses—traditionally a space for people to gather and relax.
Owner's commitment to creating a traditional Japanese style space can also be seen in their bathrooms. The design of the bathtubs reminds you of traditional Goemon-buro (a pot shaped iron tub that is heated directly with open flame from beneath, with a floating wooden plank to sit on), creating a Japanese ambience.
Live in the Moment
Carpe Diem is not just a guesthouse, but it is also a space for intercultural exchange that illustrates Japan's now and then through hands-on activities designed for visitors from around the world.
Workshops offered include making soba noodles, Japanese calligraphy, tea ceremony, and kitsuke where you can learn how to wear kimono. All of their workshops and events showcase features of wonderful Japanese culture and are a great experience for international visitors and even for the native Japanese.
The best encounter at this guesthouse, though, is meeting the cheery French owner popular among guests and his wife who values the Japanese tradition and heritage.
It was my first time to meet them at this interview, but they made me so comfortable. I felt as if I'd known them for a long time.
I think the name of the guesthouse Carpe Diem represents how the owners treasure meeting different people and the relationships formed through these encounters.
Carpe Diem is Latin. It is often translated as "seize the day" in English and is similar to the Japanese idiom "ichigo ichie"—literally "one chance, one encounter"—expressing the frame of mind for tea ceremony, to act and respect as if the particular meeting at the ceremony occurs only once in the lifetime and will never occur again.
As the name indicates, this guesthouse is a place where one can live in the moment, whether by enjoying the seasonal sceneries or through cultural activities offered.
Looking forward, the owners are considering new ideas, too—expanding into the adjacent property where they will offer not only cultural experiences but also residence for artists and support local artists-to-be.
Stop by this treasured hide-out Carpe Diem that continues to evolve despite the slow pace it provides for its guests.
Spots Introduced
[Access] About 7 mins walk from Exit 2 at Midoribashi Station.
[Hours] Check in: 3:00pm~6:00pm, Check out: 10:00am

[Access] About 7 mins walk from Exit 2 at Midoribashi Station.
[Hours] Open on Thursdays and Fridays 1pm~5:30pm ※Check their Instagram account to confirm.

Recommended Plans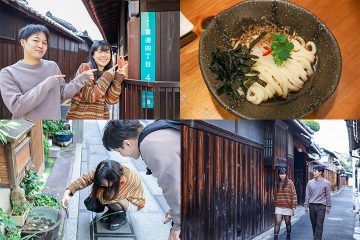 Hi! My name is Nasu. I came from South Korea to do Working Holiday in Japan. …
2023.11.24
Hello! I'm Nasu from South Korea. I love Japan and have studied the Japanese language …
2023.11.17
Vegetables are almost always part of a Japanese dish, but the truth is it's not easy to find …
2023.10.06