Explore Osaka's Dashi Broth Culture
Michelin Guide Listed Udon Noodle Shop
2019.11.12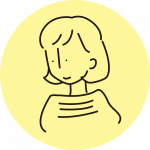 Written by: キタちゃん(Kita chan)
● Osaka: The Birthplace of Kitsune Udon
Osaka's flavor begins with dashi broth carefully made with bonito flakes and dried sardines, and with kombu (kelp) providing the key underlying tone.
Often used in "spice curry" (Japanese curry made with spices instead of roux, born in Osaka) that has gained popularity recently, the possibility with dashi is infinite. Udon is a representative of such dashi broth culture. It's not an overstatement to say dashi broth is everything in udon. Udon begins with dashi and ends with dashi.
Among many types of udon, a staple Kitsune udon was born in Osaka. The simplicity of Kitsune udon—udon noodles topped with sweetened bean curd slices and chopped scallion—is the ultimate in dashi broth culture.
During the cold winter months, the umami of dashi broth permeates throughout your body and warms your heart.
1. Serving Udon for More Than 70 Years
With more than 70 years of history, Dotonbori Imai is a long established udon restaurant located in the middle of Dotonbori, Osaka. At Dotonbori Imai, utmost value is placed on the freshness of their dashi broth. Their broth is freshly made with care many times throughout the day everyday—they make only 30 bowls worth of dashi broth in one batch—instead of making a large quantity at once and use it for days.
Imai's noodles are characterized by its soft and springy texture. Since the focus of Kitsune udon is on the dashi broth, everything else is kept simple. If you prefer something with more volume, try their tempura udon (a classic udon dish topped with crispy deep-fried shrimp and vegetables), nabeyaki udon (udon cooked and served in an individual clay or iron pot), or shippoku udon (a fall/winter udon dish loaded with seasonal vegetables and other toppings) on their menu. Different dashi broth is used in different dishes, giving you a reason to go back many times over.
2. Stone-Ground Udon Made with Home-Milled Flour
At Aozora Blue, opened in 2014, wheat is ground into udon flour using stone mill. Before opening Aozora Blue, the owner chef worked at a soba restaurant for years. Relying on the skills gained through milling buckwheat into soba flour, he mills grains and produces two types of udon noodles every day. His handmade udon looks a little like wheat colored soba and is rather coarse yet full of sweetness and aroma.
Aozora Blue's seasonal menu includes new and original udon dishes. The interior of the restaurant is simple and stylish. At night, this smart little restaurant offers an a la carte menu alongside their udon.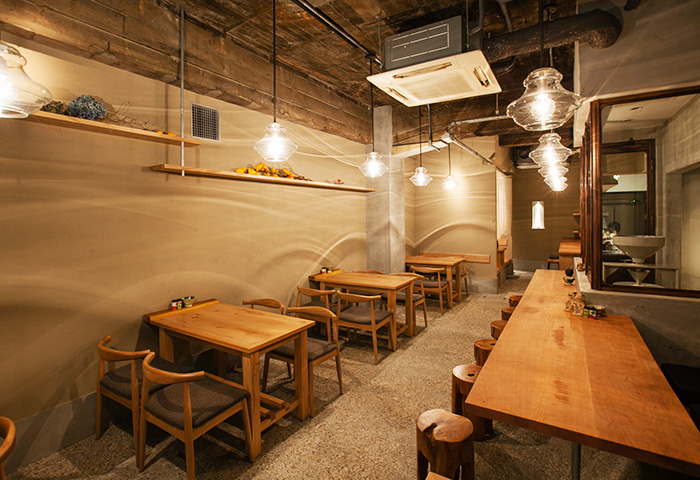 Visit and experience the true power of udon that made Michelin's Bib Gourmand list.
Their second location opened within Daimaru Shinsaibashi department store that reopened in September 2019 after a renewal.
Another Udon Dish Born in Osaka
Udon, rather than soba or ramen, is the staple noodle in Osaka. The most popular udon in Osaka is Kitsune udon mentioned above, yet Osaka is also the birthplace to another type of udon that is taking hold throughout Japan. Kasu udon gets its name from abura kasu (oil cake), a local specialty of Osaka Prefecture's Minami Kawachi area characterized by slowly deep-fried beef intestines. It's crispy on the outside and jello-y on the inside. Top some udon noodles with abura kasu, and you have kasu udon! Restaurants specializing in kasu udon are popping up lately. I'll need to write about it sometime.
Osaka has so many udon shops that you can't miss them when you're there. Each restaurant offers its own flavors of dashi broth and noodles. Try and compare different udon and enjoy the Osaka gourmet scene!
Spots Introduced
[Access] About 5 minute walk from Midosuji Line Namba Station (Exit No. 14)
[Hours] 11:00am~10:00pm
[Closed] Closed on Wednesdays (open if Wednesday is a holiday)

[Access] About 6 minute walk from Midosuji Line Yodoyabashi Station (Exit No. 12)
About 4 minute walk from Yotsubashi Line Higobashi Station (Exit No. 7)
[Hours] 11:30am~2:30pm / 5:30pm~10:30pm(closes at 9:30pm on Saturdays)
[Closed] on Sundays

Recommended Plans
Having a cup of tea is a great way to escape from the daily turmoil and relax. In recent years, …
2021.08.27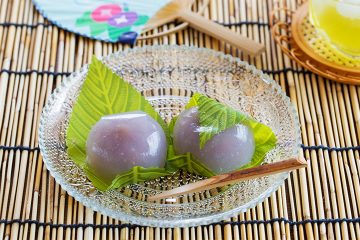 August brings a full-fledged summer to Japan. These scorching hot days make me want to eat cool …
2021.08.13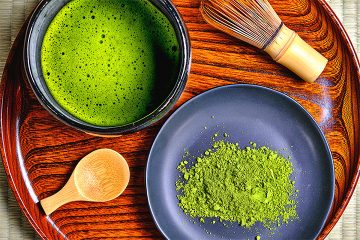 Let's talk about tea. Tea is a common beverage for the Japanese—the Japanese loves a cup of hot …
2021.06.25