A Shopper's Heaven!
From Practical Goods to Beauty Products,
Great Souvenirs for Only 100 Yen☆
2020.03.13

Written by: Shino(Shino)
● Wide Variety and High Quality
Many international visitors choose Osaka as their destination for its food and shopping scenes.
Everyone seems to know the secret—you can find good stuff for a good price in Osaka! I'd say it's something Osakans are proud of.
Among many choices, shopping at 100-yen shops is a must-do. From everyday products like chopsticks and pens to popular foods like wasabi flavored snacks and packaged curry, to fun stuff like sushi shaped erasers that are also puzzles, you can find anything and everything. It is, simply put, shopper's heaven.
Most surprising about these shops is the wide variety and the quality of their merchandise.
Take DAISO, one of the top 100-yen shops in Japan. They offer about 70,000 items, with about 800 new products added each month!
DAISO has locations abroad too and each location seems to have their own product lineup. But one thing is for sure—when you visit a larger DAISO shop, you'll be impressed with the extensive selection of merchandise they offer.
You can find 100-yen shops all over Osaka. Today, I want to introduce the huge DAISO shop located in the middle of bustling Shinsaibashi, just a quick walk from Osaka Metro's Shinsaibashi Station.
You will be amazed with what you can find for 100 yen!
Look at those Japanese dishes! They are so cute and cost only 100 yen! They are of course all ceramics and often dishwasher safe. So many to choose from!
Forgot your cell phone essentials at home? Don't worry. Smartphone accessories and USB cables cost only 100 yen, too.
And a whole variety of cosmetics!
There's no need to look further for those high-quality Japanese stationery products. They are right here.
For your kitchen… (These peelers are so easy to use!!)
And toys for kids!
These are all 100 yen. Unbelievable, isn't it?
※Note prices do not include the consumption tax (10%). Also, check the price when you shop as some may cost more.
● Ingenuity of Japanese Innovation
Even in 100-yen products, you can find the ingenuity of Japanese innovation.
Let me take a moment to brag about it.
Take a look at this, for example.
This "parka hanger" is great for line drying a hoodie or a high neck shirt.
Ever wished you could have a perfect hard-boiled egg for every breakfast? You only need to throw this cute egg-shaped "timer" in the water with eggs and it'll show you the doneness of the eggs. And next time you make deviled eggs, shape them like a flower with a simple egg cutting tool!
Convenient and fun—these are the qualities of Japanese inventions♪
These are all products of Japanese innovation.
You can get them for yourself or they'd certainly make interesting souvenirs!
● Find Nice Souvenirs for Only 100 yen!
Speaking of souvenirs, you might even get most of your souvenirs taken care of at 100-yen shops.
They certainly have a variety of Japanese and high-quality goods.
Here're sushi and oden key chains popular among international visitors.
They also have plenty of traditional Japanese items including cute coin purses, festival face masks, tenugui towels, and tabi socks. They'd definitely make great souvenirs from Japan.
I'm sure you've seen those cute erasers on Instagram before? They are great for kids and adults alike.
Did you say Hello Kitty?
Last but not the least, they have all sorts of snacks and other foods!
These snacks go great with beer.
Wasabi flavored snacks to kick it up a notch!
And, of course, a whole lot of green tea flavored snacks.
Get a couple of these and you can re-create Japanese meals back home just by cooking rice!
There're soooo many things just a single coin can buy, for yourself or as a souvenir for families and friends.
Isn't it just amazing all of these cool items cost only 100 yen?
Make sure to stop by at a 100-yen shop and fill up your suitcase before you leave Japan!
DAISO has about 60 locations within Osaka City.
Stop by your nearest 100-yen shop!
Spots Introduced
[Access] About 4 mins walk from Exit 2 at Shinsaibashi Station.
[Hours] 10:00am - 9:00pm

Recommended Plans
Japanese products are known for their high quality around the world. Electronics …
2023.10.20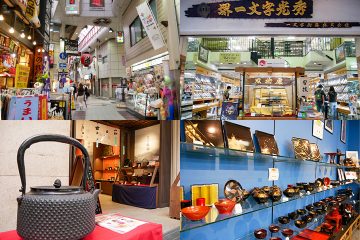 Osaka is Japan's food capital, known as a city where you "eat 'til you drop". Every day, locals …
2023.09.08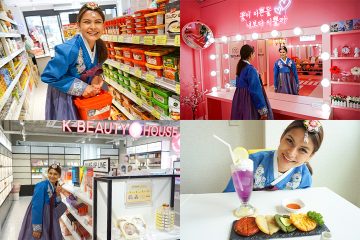 Namaste! I'm Manju from Nepal. I love gourmet food and shopping! I love Osaka's Korea Town in …
2023.08.10