All About Pokémon Center Osaka DX
2023.07.14

Written by: Huang(Huang)
● Osaka Pokémon Center DX!
你好! My name is Huang. I'm from Taiwan.
Pokémon games are one of my favorites since I started playing them on my Game Boy. So I wasn't going to pass up on a chance to visit Pokémon Center Osaka DX!
It's located on the 9th floor of Daimaru Shinsaibashi's Main Building, which is easily accessible underground from Osaka Metro's Shinsaibashi Station Exit No. 4.
With a new anime series starting just a few months ago, Pokémon is hot on everyone's mind. And for Pokémon fans like me, this place is like a sacred ground☆彡 I almost couldn't believe I was there!
●A Welcome by Legendary Articuno, Zapdos, & Moltres♪
As I arrived at the nineth floor of Daimaru Shinsaibashi's Main Building, I was welcomed by legendary Articuno, Zapdos, & Moltres!
It was a special welcome, so powerful and awesome, for someone like me!
To the left side of the store, I also found Sprigatito, Fuecoco, and Quaxly from Pokémon Scarlet and Violet♪
Let's dive right in and check out the store and its wonderful merchandise♪
●Pokémon Plush Dolls♡
A parade of Pokémon plush dolls caught my eyes as soon as I entered the store. I think I'm going to find a Buddy Pokémon here today!
Look at these! I found life size Sprigatito, Fuecoco, and Quaxly plushies! It felt as if they were actually there with me. I wanted all three… (Lol)
For those interested, they come in various sizes and, of course, you can find other characters, too◎
I found Paledean Wooper and other Paldean Pokémon, and the Pokémon Scarlet Violet Plush dolls, Koraidon Sprinting Build and Miraidon Drive Mode!
Paldean, Kanto, Johto…I found lots of plushies from various regions, including Bulbasaur, Charmander, Squirtle, and even mythical Pokémon like Mew (my favorite!), Manaphy, and Shaymin!
Ta-da! Here's Togepi!
Togepi is special to me because it was my first Buddy. I wasn't sure how I was going to choose which plushie to buy but the decision was easy once I saw Togepi.
It's you and me, Togepi!
●The Cutest Pikachu
It would not be right if one visited the Pokémon Center and did not check out Pikachu.
Pikachu and Eevee together on a shelf are just right♪
Check out these Pikachu Wedding plushies♡
Wedding Dress Pikachu and Wedding Tuxedo Pikachu come in special packaging and make a great wedding gift.
And don't forget Wedding Kimono Pikachu that takes in the traditional Japanese culture into the design. I'm sure they'd make a special gift♪
●Pokémon Goods☆
On the left side of the store are Pokémon merchandise like phone cases and cell phone straps with Gengar and Piplup.
See these Pokémon umbrellas that reflect light and the Pikachu rain boots? If you owned these, a rainy day would be a happy day♪
Other Pokémon goods include Pikachu and Piplup hair clips and Gengar and Snorlax headbands, everyday items that are sure to add fun to your day!
For those with Pokémon fan kids, they have Pokémon stationery, and even Kanji and math workbooks!
Wait. Maybe I can use these workbooks to study Kanji. Doesn't have to be only for kids, does it?
These markers were made exclusively to celebrate the opening of Pokémon Center Osaka DX.
Designs like Manzai Comedian Pikachu and Pikachu eating Takoyaki represent the culture of Osaka well.
The palm-sized Pokémon Bonsai themed figures are super cute. Whoever gets this as a souvenir will get to enjoy the four seasons with Pokémon!
●Pokémon Stickers
I found B-SIDE LABEL Pokémon Stickers! I love the designs of these stickers and the Japanese phrases written on them that reflect each character♪
Here're Paledean Pokémon stickers. I think I'm going to choose from the first three evolved Pokémon. (Or get them all. lol)
●Pokémon Card Accessories
For Pokémon Card collectors, LOTS of accessories are for sale at the Pokémon Center!!
Pokémon card binders and deck boxes with Pokémon designs… Latias, Latios, Rayquaza…you name it! You can enjoy your card collections by customizing your decks as you like♪
●Pokémon Capsule Toys♪
Don't forget to check out the capsule toys and the souvenir medallion machine, too.
The Pokémon Café miniature café menu in a capsule and Pikachu Manzai comedy medal would make a nice memorabilia to keep♪

©2023 Pokémon. ©1995-2023 Nintendo/Creatures Inc./GAME FREAK inc.
This content was created under the terms of use of "Pokémon Game Sound Library".

●Staff Voice and Special Events
This year marks the 25th anniversary of the Pokémon Center and various events are held in celebration♪
Pokémon Center's "Staff Voice" is a great place to check for event information before your visit!
Surrounded by Pokémon goods, today was a good day for me♪ In the next article, I'll show you all about Pokémon Café so stay tuned☆
To Be Continued…▶
※Sales of merchandise may be delayed or discontinued due to unforeseen circumstances at production sites.
※The price of the goods introduced in this article are current as of the day of the interview and may change without notice.
©Pokémon. ©Nintendo/Creatures Inc. /GAME FREAK inc.
Pocket Monster and Pokémon are registered trademarks of Nintendo, Creatures Inc., and Game Freak, Inc.
Spots Introduced
[Access] Directly connected underground from Shinsaibashi Station Exit No. 4
[Hours] Monday - Sunday 10:00am - 8:00pm
※Same as Daimaru Shinsaibashi Main Building business hours

Recommended Plans
สวัสดี! I'm Nene. I'm from Thailand. It's been 5 years since I came to Japan to go to school. I …
2023.12.08
Hello! I'm Nasu from South Korea. I love Japan and have studied the Japanese language …
2023.11.17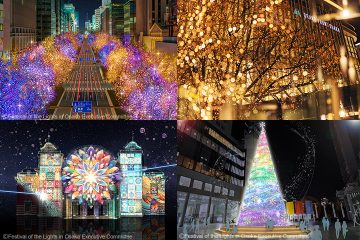 Every year at this time, dazzling winter illuminations begin to appear around the City of …
2023.11.10
Shinsaibashi
Shinsaibashi