SPECIAL
Discover OSAKA
"Along the Osaka Metro Lines" Series:
Sennichimae Line (East)
2021.02.19
Along the Osaka Metro Lines Series showcases the characteristics of Osaka Metro's seven subway lines and their surrounding neighborhoods. Continuing from the last article on the western part of the Sennichimae Line (Nodahanshin to Namba,) this article covers the eastern part of the pink line (Nippombashi to Minami-Tatsumi) packed with great foodie spots, Japanese traditional arts and culture, and a J-Pop paradise.
From Traditional Arts to Subculture to Food!
Nippombashi Station sounds similar to Tokyo's Nihonbashi Station. In fact, they share the same Kanji characters when written in Japanese. While Tokyo's Nihonbashi is a commercial center, Osaka's Nipponbashi is an area full of culture, both traditional and pop. Nipponbashi's Den Den Town and its "Ota Road" towards the south of the station are packed with anime/manga/gaming shops and are well-known among J-Pop fans. On the eastern side of the station, the National Bunraku Theatre hosts performances of bunraku, the traditional Japanese puppet theater designated as UNESCO's Intangible Cultural Heritage. Other traditional arts such as buyo (classical Japanese dance,) and popular plays are also performed here. Look for a station exit with the tricolor stripes often used for stage curtains at traditional theaters in Japan. It'll lead you to the theatre nearby in no time!
Walking Osaka's Nipponbashi Ota Road with an Otaku, Part I:
Japanese Manga, Anime, and Video Games are the BEST!
https://metronine.osaka/en/article_tour/20200821-nippombashi-otaroad/
Also located near the station is the Kuromon Ichiba Market, aka Osaka's Kitchen. The best and freshest ingredients from around the country can be purchased at this 580-meter-long covered street market with over 100 shops.
A Temple Town
Tanimachi 9-chome Station conveniently connects with Osaka Metro's Tanimachi Line and is also a quick walk from Kintetsu Railway's Osaka-Uehommachi Station. Known as "tera-machi" (literally "temple town,") hundreds of temples and shrines line the streets in this area, including Ikutama Jinja Shrine known for one of the three major summer festivals in Osaka and Kozugu Shrine dedicated to Emperor Nintoku, Japan's 16th emperor. The whole area—and particularly the Tennoji Nana-saka (the Seven Slopes of Tennoji)—is a great area for exploring the history of the area and the country.
Off-The-Beaten-Track: A Historic Walk in Tennoji
https://metronine.osaka/en/article_tour/article-emon02/
That Aroma at Tsuruhashi
Each station has its own color on the Sennichimae Line. Next stop, Tsuruhashi Station where you can connect with JR's Osaka Loop Line, is casual and local, surrounded by Korean shops, and an easy walk to Osaka's Korea Town. When you surface from the underground station, you will right away notice the sweet aroma of Korean yakiniku berbeque and kimchi that tickles your appetite. This aroma is so delicious, it's been selected as one of Kaori Fukei 100-sen (literally "100 best aromatic landscapes") chosen by Japan's Ministry of the Environment in 2001!
Osaka's Korea Town: Korean Street Food & BBQ
https://metronine.osaka/en/article_tour/article-myfirstosaka-food-koreatown-gourmet/
Go south after you walk through the Korea Town where it really feels as if you're in Korea, and you'll find the ruins of Tsuruno-hashi, the oldest bridge in Japan that was said to be built in the 4th century and connected Osaka and Kyoto. The geographical name of the area, Tsuruhashi, was derived from this historic bridge.
On the west side of the platform at Osaka Metro Tsuruhashi Station, you might notice an ancient instrument screen that looks like it's from a different era.
This instrument screen used to measure the temperature and humidity levels on the platform and its records encompassing 80 years is stored in Osaka City Archives. The data produced by this instrument screen was most accurate—unaffected by winds caused by the train because of its location—and used in managing the station's ventilation and air-conditioning. While it's no longer in use, this instrument screen is now one of the few remaining valuable instrument screens.
Rakugo Storytelling & Traditional Crafts
The Sennichimae Line connects with Osaka Metro's newest line, the Imazatosuji Line, at Imazato Station. The Imazato intersection above the station has been a key junction, a five-way intersection where Imazatosuji, Sennichimae-dori, and Nagahori-dori meet. Back in the 30's, this intersection was a traffic circle affectionately known as Imazato Rotary because the traffic conditions in the city then didn't allow for the installation of traffic signals at this massive intersection. This area is a center of Kamigata Rakugo (traditional Japanese comic storytelling from the Kansai area,) where many rakugo storytellers remain active.
Shin-Fukae Station is well-known for suge-zaiku, Japanese traditional crafts that use the sedge grown in the area. Sugegasa (woven sedge hat) from this area is used at Daijo-sai ritual, one of the three main imperial ceremonies that take place after the enthronement of a new emperor, as well as at Jingu Shikinen Sengu, the ritual to transfer the deity to a new shrine that is constructed every 20 years at the famous Ise Jingu Shrine in Ise. The 15-meter wall art inside the station depicts this important cultural asset of the area. Fukae Suge-zaiku Hozonkai group works to preserve the tradition.
At Shoji Station is a rare sight to see. Through a small window installed at this small station, you can see the underground public utility tunnel structure beneath Route 479 that happens to be right next to the station. Look for a decent size space and a simple gallery near Exit 1 and 2. The last two stops, Kita-Tatsumi and Minami-Tatsumi Stations, are located next to Higashiosaka City, in an area with many small local factories.
The Sennichimae Line currently operates with four cars—it's on a compact side for Osaka Metro—but can accommodate up to eight cars, considering the stations on this line are equipped with long platforms and staircases that are not being used. Imagine the possibilities as you ride Osaka Metro Sennichimae Line!
"Along the Osaka Metro Lines" Series: Sennichimae Line (West)Here
https://metronine.osaka/en/article_tour/article-osakafinder-sennichimae-west/
Recommended Plans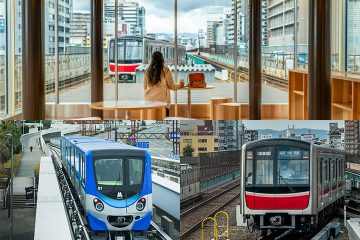 The colorful train cars of Osaka Metro attract railway enthusiasts and others to take …
2023.08.25
Welcome to Along the Osaka Metro Lines series which showcases the characteristics and …
2021.05.14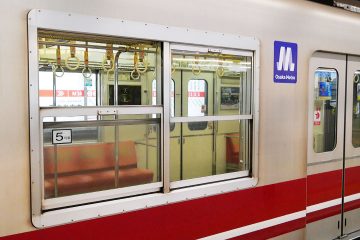 Osaka Metro has implemented a number of measures to provide safe and comfortable services to …
2021.04.30