Beautiful Sakura Blossoms in Osaka
Giving Courage to All
2020.04.03

Written by: 윤(YOUN)
● Cherry Blossom Season Is Here!
A Japanese friend of mine once said: Even after a rough, cold winter, spring inevitably comes, and Sakura inevitably blossoms. Sakura to the Japanese is something to love and appreciate. Sakura gives the Japanese courage and strength.
Sakura is the Japanese term for cherry blossoms. In a country known for breathtaking Sakura cherry blossoms, spring holds a special meaning of renewal and Sakura symbolizes the arrival of spring and the fragile beauty of life.
The sun feels warmer and warmer every day. Spring has come.
And Sakura cherry trees have blossomed! They are as delightful as they are every year.
Each year in Japan, people enjoy beautiful blossoms as they go out on hanami (Sakura viewing) parties. Allow me to share some of the experiences from last year🌸
Cherry Blossom walkway at the Japan Mint was breathtaking as usual.
Lots of yatai food stands were there to serve all sorts of festival food.
You can read more about Japan Mint's famous cherry blossom walkway here.
https://metronine.osaka/article_tour/zoheikyoku-sakura/
Unfortunately, we are to refrain from gathering in the parks to have hanami parties because of coronavirus this year.
Even Osaka Castle has cancelled the light up of its famous cherry blossoms in the Nishinomaru garden and BBQing in the park is now prohibited😢
BUT that doesn't stop Sakura cherry blossoms from blooming beautifully!
I love that Osaka has many Sakura trees.
When spring comes, I'm reminded I can find Sakura trees even in forgotten corners of the city🌸
And in tiny parks in the middle of the city, you can always find one or two cherry blossom trees. Just grab a cup of coffee to go on your way out of a station, find a park nearby, and take a seat under a Sakura tree—it's a simple yet nice way to enjoy the blossoms.
● Find Sakura Around Osaka Metro
I found some Sakura blossoms today simply by walking around Osaka Metro stations. It has become my favorite way to enjoy Sakura in this new world.
Here's a scene from Takakiyabashi Park near Nishinagahori Station.
I stopped by THE COFFEE COFFEE COFFEE near the park and had my own little hanami party.
It was a little chilly so sipping on a hot coffee was perfect as I marveled the stunning blossoms.
Later I found this weeping Sakura tree at the entrance of Osaka Excel Hotel Tokyu on my walk down Midosuji Boulevard from Shinsaibashi Station to Hommachi Station.
This Sakura tree is special. Taiko Toyotomi Hideyoshi who built the Osaka Castle is known to have adored the Sakura at Daigoji Temple in Kyoto. The Sakura tree I found in the middle of Osaka is a clone of Hideyoshi's Sakura, grown in tissue culture using biotechnology. Amazing, huh?
And here's a little bonus trivia—the name of this particular Sakura tree is "'Taiko' Chiyo Shidare Zakura" (Taiko Chiyo weeping cherry tree), named after Taiko Toyotomi Hideyoshi.
Drinking and partying under Sakura blossoms has always been the way the Japanese enjoyed hanami each spring. This year, hanami takes a form of a stroll. Seeing these pretty Sakura blossoms on a quiet walk is a simple joy that gives us strength.
All winter comes to an end, and Sakura inevitably flowers.
I found Sakura in Osaka today. I hope the beauty of my Sakura reaches everyone around the world.
Spots Introduced
[Access] About 4 mins walk from Exit 6 at Nishinagahori Station.

[Access] About 4 mins walk from Exit 6 at Nishinagahori Station.
[Hours] 10:00am – 7:00 pm
[Closed] Thursdays

[Access] About 2 mins walk from Exit 13 at Hommachi Station.

Recommended Plans
One of the highlights of Osaka is its people and their warm, friendly character. Over its …
2023.09.29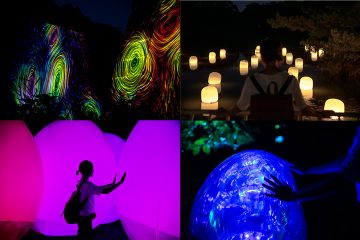 Hello! My name is fuji. I am a writer. Have you been to a botanical garden that is also an art …
2023.09.01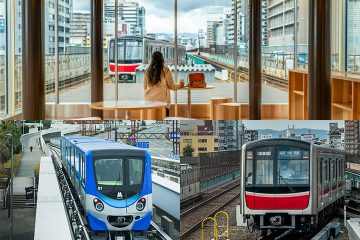 The colorful train cars of Osaka Metro attract railway enthusiasts and others to take …
2023.08.25