Save Money Traveling with the Osaka Amazing Pass!
2019.07.08

Written by: ฐิติกร สุนันทารอด(Sununtharod Thitikorn)
● Osaka Amazing Pass (1 day pass, Osaka edition)
I'd always thought the Osaka Amazing Pass (1 day pass, Osaka edition) may be the best buy among all rail passes in Japan. I mean, it gives you unlimited rides on Osaka Metro and in-cludes free entry to more than 40 sightseeing spots.
So, I finally went to try it out!
It is literally "amazing," too good to be true for travelers visiting Osaka.
Here's the run down so you too can take advantage of it!
Where Can I Buy the Osaka Amazing Pass?
I started my day at Tennoji Station on the Midosuji Line.
As I was looking to purchase the Osaka Amazing Pass…
Voila!
I came across a rack full of Osaka Amazing Pass leaflets!
Turns out you can purchase this pass at any station on Osaka Metro.
In addition, you can purchase them at tourist information centers in Umeda, Namba, and Kansai International Airport.
If you want to purchase the pass before the day of travel, select travel agencies carry them as well.
Information is available in Japanese, English, Korean, Traditional Chinese, and Simplified Chinese.
● Loved the Bay Area, with a Ferris Wheel and a Cruise!
After mulling over where to visit, I chose the Bay Area where you can ride the Ferris wheel and take a cruise.
I headed to Hommachi Station from Tennoji via the Midosuji Line, then transferred to the Chuo Line that took me all the way to Osakako Station.
The large Ferris wheel appeared in front of me after about 5 minutes of walking.
This Tempozan Giant Ferris Wheel is 112.5m high, and the view looks like this…
Osaka Aquarium Kaiyukan was just beneath me!
I could even see Kyocera Dome Osaka, home of Orix Buffaloes!
Feeling pretty good with the amazing scenery, I headed to the Santa Maria, Osaka Bay Cruise.
Santa Maria is a replica of Christopher Columbus's flagship vessel used on his voyage to the continent of America, and it has items from the Age of Ex-ploration on display onboard.
The sea breeze felt soooo good on the deck.
It is a great cruise that takes you around the Osaka Bay, going under the massive red Minato Bridge and overlooking Nanko where the G20 Osaka summit was recently held.
I can talk more about this but let us explore other areas of Osaka as well!
Here's a photo of Osaka Metro's Chuo Line that takes you to Osakako Station.
It is a subway but it runs above ground around here!
● Osaka Castle Area for the History Buffs!
We arrived at Osaka Castle via the Chuo Line to Morinomiya Station and then the Nagahori Tsurumi-ryokuchi Line to Osaka Business Park Station. Why did I take this seemingly strange route? Well…it's because I wanted to ride this:
A golden Osaka Castle Gozabune, a Japanese style boat with a tatami (straw mat) floor, once reserved for the nobles.
It's a cruise of the Osaka Castle moats, a little different from the Osaka Bay Cruise earlier. It was quite an experience to get so close to the stone walls. The Castle's main keep towered over my head. With jingasa (war hat, used to be worn by samurai warriors) available for rental, it felt like I had travelled back in time.
I thought about going up to the main keep, but I decided to head out as I re-membered the free rides I have with the Osaka Amazing Pass all day…
● You Can Enjoy Kita and Minami!
Leaving the Osaka Castle, I took the Tanimachi Line from Tenmabashi Sta-tion to Higashi-Umeda Station, and walked a while.
Then I found myself at the Kuchu Teien (Floating Garden) Observatory at the top of the Umeda Sky Building in Kita (means north; Umeda/Osaka area).
This is a popular spot where you can see the entire city of Osaka. But it started raining and I was disappointed until…
I saw the rainbow! This really made my day!
Let's keep on going!
Next destination is Minami (means south; Namba/Shinsaibashi area). Dotonbori is famous here; it's a place that comes to many minds when thinking of Osaka.
Here I went on board the Tombori River Cruise, which takes you along the Dotonbori canal.
That's too many cruises in one day? Well, It's okay. They are all different, a bay cruise, a moat cruise, a canal cruise… In any case, with its neons glaring, Dotonbori was beautiful at night. The famous Glico Man was right in my face~♪
So this is how I enjoyed Osaka in one day.
By the way, this trip would have cost me 1,200 yen in transportation and 6,400 yen for attractions, a total of 7,600 yen. But I paid only 2,800 yen for the Osaka Amazing Pass. What a great deal!
Recommended Plans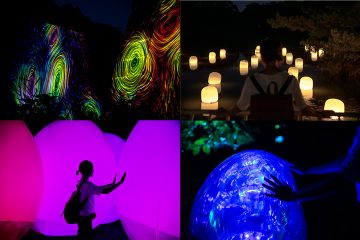 Hello! My name is fuji. I am a writer. Have you been to a botanical garden that is also an art …
2023.09.01
你好! I'm Huang from Taiwan. I've been a Pokémon fan since the time of Game Boys. After years …
2023.07.21
你好! My name is Huang. I'm from Taiwan. Pokémon games are one of my favorites since I …
2023.07.14
Tennoji
Hommachi
Osakako
Morinomiya
Osaka Business Park
Temmabashi
Higashi-Umeda
Umeda
Shinsaibashi
Namba
Tennoji