Walking Tenjinbashisuji Shopping Street, Japan's Longest Shotengai♡ – Part1
2023.05.19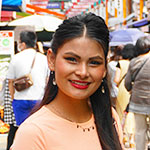 Written by: manju(manju)
● Tenjinbashisuji Shopping Street, The Longest Shotengai in Japan!
Namasute! I'm Manju from Nepal. I love good food and good buys!
So I visited Osaka's gourmet and shopping paradise, Tenjinbashisuji Shotengai Shopping Street. Since it's the longest shotengai in Japan, I'll cover the southern half, between Tenjinbashi 1-chome and 3-chome in this Part 1 of the series to visit Tenjinbashisuji Shopping Street.
Osaka's proud and famous Tenjinbashisuji Shopping Street is a shotengai shopping street that extends from the 1-chome neighborhood—nestled around where Tenjinbashi Bridge spans over the Okawa River—all the way to the 6-chome neighborhood in the Tenjinbashi area of Osaka City's Kita Ward. Covering a long 2.6 km (approximate) total in its length, it is the longest shotengai in Japan! If you look at the distance in terms of Osaka Metro stations, the shotengai covers three stations, from Tenjimbashisuji 6-chome to Ogimachi to Minamimorimachi on the Sakaisuji Line. About 600 specialty shops crowd together in this space, with no real break between them except for cross streets.
You can get anything and everything in Tenjinbashisuji Shopping Street, whether it's food—sushi, okonomiyaki, tempura, and sweets—or merchandise—fashion, cosmetics, pharmacy, souvenirs…you name it! Let's go explore this amazing shopping street together! And don't forget good shoes. We will be walking a lot!
● Starting at Tenjinbashisuji Shopping Street 1-chome
A Taiwanese breakfast restaurant, "wanna manna" in Tenjinbashi 1-chome is hot right now. Located about 7-minute walk from the nearest Metro station, Minamimorimachi, you can't miss this cute shop with a green store front. There's a lot of buzz around Taiwanese food right now, and this shop specializes in Taiwanese breakfast foods.
Wanna manna opens at 8am, but we went around 10am to avoid the breakfast crowds that start lining up in front of the shop before it even opens. Our plan worked; we were able to get seated right away!
The menu lists all the tasty Taiwanese favorites like Taiwanese salted soybean milk, 鹹豆漿, and stuffed breakfast rice rolls, 招牌飯糰. Their set menu includes the drink of the day, with unlimited refills—a rare thing in Japan♪ Taiwanese soymilk was the drink of the day when we visited, so I ordered 燒餅, the crispy sesame roll. I thought it'd go well with the soymilk.
Voila! Don't they look yummy?
Light, crispy roll with a nice aroma of sesame seeds sandwiches flavored pork and eggs. All sets come with an extra side of the day—a peanut butter sandwich in my case. A roll and a sandwich! It was all bread! lol
Itadakimasu!! Let's dig in!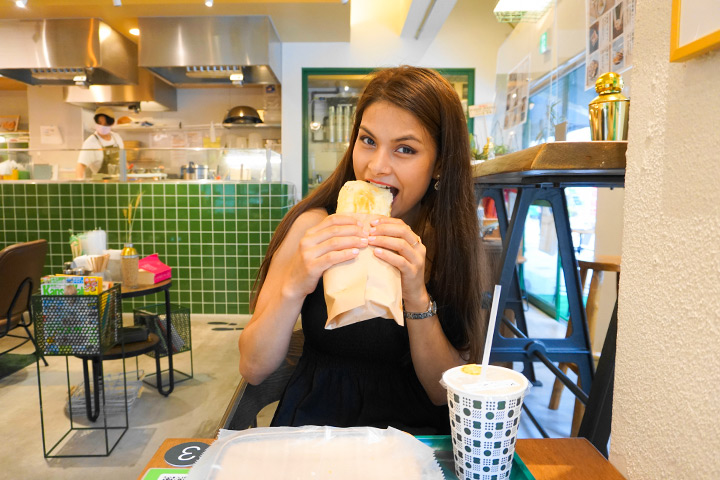 I loved the Taiwanese soymilk. Their homemade soymilk is light and easy to drink. I got mine sugar free, and I was able to savor the natural sweetness of soybeans. My body was happy, too.
I think the sesame roll would be great for lunch or even dinner. It's a popular item for carry out, as well.
After such a big breakfast, I have no problem starting early and doing a lot of work!
The covered shopping street goes on toward north from here. Since the entire street is covered with a roof that spans from one side to another, you don't need to worry about rain. And, during the hot summer months, it provides a nice shade in the heat.
The street was rather quiet with some shops still closed before the busy lunch time. Locals were enjoying a relaxing stroll.
● From Osaka Tenmangu Shrine to Tenjinbashi 2-chome
When you come out of the 1-chome neighborhood, take a right and walk a little, and you'll find Osaka Tenmangu Shrine. This shrine is affectionately called Tenma no Tenjin-san by the locals and the deity of scholarship, Sugawara-no-Michizane is enshrined here. The surrounding area is quiet and calm.
I made a quick stop at the shrine.
Just north of Osaka Tenmangu Shrine is a rakugo theater, Temma Tenjin Hanjo Tei. I've never been but woud like to see a rakugo comic storytelling performance someday.
Hoshiai no Ike is a lucky pond just northeast of the Temma Tenjin Hanjo Tei. You can buy "lucky charms" and throw them onto the colorful target in the pond. Each color represents a different type of wish, like love, business, and health. Whatever color your lucky charm lands in indicates which of your wish would come true. I got greedy and tried for the gold center, where "all dreams come true," but didn't make it. Maybe I overestimated the ease of hitting the target, or maybe I shouldn't have been standing on my toes…
As we returned to the shopping street, we found a cool-looking shop decorated with lots of lanterns. The name of the shop was Tenma Tenjin MAIDO. I had to check it out.
Kiriko glass (cut glass) lined one of the shelves inside. Specifically, these were called Tenma Kiriko. Sparkly glass looked like jewelry. They are made of glass yet they are very Japanese and warm.
Turns out MAIDO carries a collection of Osaka's specialties. Foods and crafts made locally in Osaka would all make a great souvenir!
They have plans to start selling Doburoku raw rice wine made with the mikami sacred water from Osaka Tenmangu Shrine. Sounds like it'd be good for health and bring good luck! The shop was filled with merchandise, some familiar to local Osakans, and some unknown even to the locals.
Next stop is Nakamuraya known for its croquettes! This little shop in Tenjinbashisuji Shopping Street 2-chome always has a long line but it's worth the wait. It is simply a bliss to stroll along the shopping street as you take bites off of the hot sweet crispy croquette!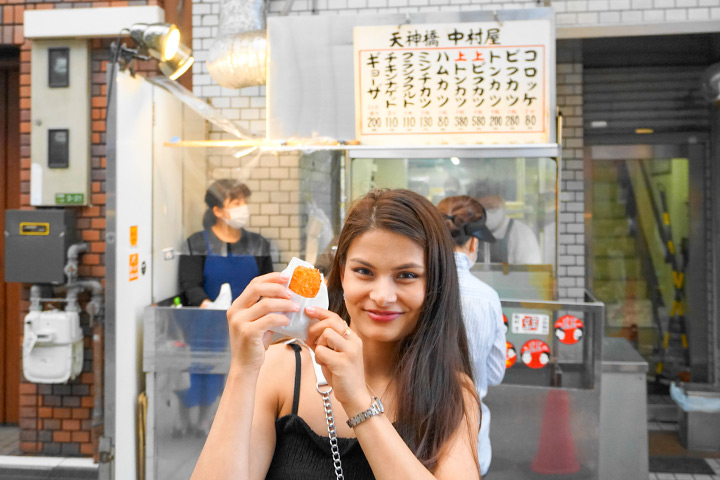 We are continuing our walk through 2-chome, passed Osaka Metro's Minamimorimachi Station. Above your head at the entrance to the shopping street here are 2-meter tall welcome dolls that decorate the welcome boats at Tenjin Matsuri Festival, Osaka's biggest summer festival. I took a picture of them as a keepsake for my visit to Tenjinbashisuji Shopping Street. I like it when I come across neat photo spots like this on my walk.
● Hardware, Used Books, and Antiques in 3-chome
Into the 3-chome neighborhood, you find shops with calm ambience. Kunishige Hamono-ten, with 240 years(!) of history, carry beautiful hardware including all kinds of knives and scissors.
Back during the Edo Period, they used to make samurai swords! Knives that line the walls and shelves were just gorgeous. I've always found Japanese knives to be extremely sharp. I even get the illusion I cook better with it!
Look above. See the red torii gates in the ceiling? The ceiling in 3-chome was designed in the image of the road that leads to Osaka Tenmangu Shrine.
"Flying torii" is the name they gave to those red gates floating above. Maybe you can get good luck simply walking under them♪
As I strolled along, I saw lots of interesting shops like a shop carrying kitchenware and an antique shop.
This area is also famous for used bookstores. Each store has its own unique style, specializing in a particular genre or collection. It'd be fun to go on a bookstore hopping around here.
We've walked a lot and saw a lot, but we're only halfway through! We'll continue exploring interesting shops and good foods in Part 2 where we walk Tenjinbashisuji Shopping Street 4-chome to 6-chome! Stay tuned♪

Check here for part2
>>Walking Tenjinbashisuji Shopping Street, Japan's Longest Shotengai♡ – Part2
*The information in the article is for 2021.
Recommended Plans
One of the highlights of Osaka is its people and their warm, friendly character. Over its …
2023.09.29
Everyone knows about Japanese snacks—from Pocky to gummies, to ramune to matcha KitKats and mochi …
2023.09.15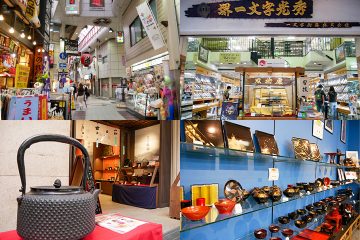 Osaka is Japan's food capital, known as a city where you "eat 'til you drop". Every day, locals …
2023.09.08
Minamimorimachi
Minamimorimachi
Ogimachi