Walking Tenjinbashisuji Shopping Street, Japan's Longest Shotengai♡ – Part 2
2021.07.30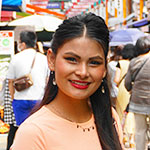 Written by: manju(manju)
● Great Deals Found in Tenjinbashi Shotengai 4-chome
Namaste! I'm Manju. I'm from Nepal.
We're walking Osaka's famous Tenjinbashisuji Shotengai Shopping Street, Japan's longest shotengai shopping street where some 600 shops and restaurants crowd together! Visitors and locals alike love visiting Tenjinbashisuji Shopping Street for great food and shopping experience. Continuing from Part 1 that covered Tenjinbashi 1-chome through 3-chome areas, we will explore Tenjinbashi 4-chome to 6-chome and find cute shops today!
We've left 3-chome and are now heading into the 4-chome area! Hanshin Expressway runs above instead of a roof covering between 3-chome and 4-chome. Three once was a canal underneath the expressway, and 3-chome and 4-chome were connected with the Meotobashi Bridge, literally "married couple bridge". Today, the former site of the bridge is a space for rest where you can relax and get refreshed.
In Tenjinbashisuji Shotengai 4-chome, locals crowd a retro kissaten (Japanese café)…
And a general store with shiny cell phone cases in front attracts girls like me♡
I walked and walked, passed Osaka Metro's Ogimachi Station, and arrived in Tenma area. The shotengai street narrows a little around here but I noticed more people in the area.
I also kept noticing great prices for clothes and knick knacks!
All prices were under 1,000 yen at this store! Is that possible??
This shop was great, too! I love finding great deals!
● Sushi Lunch & Sweets in Tenjinbashi 5-chome
As I walked through Tenjinbashisuji Shotengai 5-chome, aka "Ten-go shotengai", I found maritozzo! Pasticceria Amarena offers these beautiful maritozzo and other Italian sweets.
Go off of the main street in Ten-go shotengai and you will find many alleyways—it's sort of like a labyrinth with restaurants and shops. Tenma is also a great bar district of Osaka. You can bar hop all you want, all night!
Through the market, I came to Plala Tenma, an indoor market full of shops with fresh products. I had to check it out.
Fresh produce, fish, meats…they're all cheap! I was excited.
Here, you can even find food ingredients that are hard to come by in Japan. I'm going to cook some Nepalese food when I get home!!
I bought A LOT.
Oops, I snacked a lot as I shopped and missed lunchtime. But, because of that, I had no problem getting a seat at Harukoma, a famous sushi shop that always has a long line at lunch time.
It makes me a little nervous to order sushi at the sushi bar, but it's fun to choose from the fish right in front of you.
Here's my favorite sushi. Itadakimasu!
Yum-yum♡ So tasty. Sushi just tastes so good in Japan! It's one of the things I learned to enjoy after I came here.
I even tried herring roe for the first time. The "popping" texture is quite unique! I liked it
Since you normally order sushi a la carte at a place like this, it makes a perfect lunch for a day of eating. I can manage the amount I eat and make sure I have enough space in my stomach to eat more later!
I knew where I was going after I left Harukoma. Earlier, I'd seen a shop that specializes in warabi mochi (a traditional Japanese mochi dessert) called "Torori Tenshi no Warabi Mochi" which literally means something like "creamy angel's warabi mochi". Normally, warabi mochi is a chewy, translucent mochi you use a little bamboo fork to eat with. But here at Torori Tenshi no Warabi Mochi, you can drink warabi mochi. It's the next hot thing after tapioca pearls in bubble tea.
It was, indeed, warabi mochi in a cup! The chewy yet melting texture of the warabi mochi sucked up through the straw was a little different from that of tapioca.
What a cute shop, appropriate for its naming.
● Yukata Summer Kimono in 6-chome
Cheap drug stores in Tenjinbashisuji Shotengai 6-chome always get me excited, but the 100 yen Shop Silk here is such a unique shop you don't want to miss it. Silk is a chain, but this particular location is famous for the super funny signs written by the owner.
My jaw dropped I saw the price tags on the rack in front of "Kimonoing," a great kimono shop nearby. I couldn't believe what I saw! 550 yen? 330 yen??? How?? A woman from the store came out and explained to me.
These kimono are second-hand, made of materials like silk or cotton, and are good quality, but they lowered the price hoping kimono becomes a more common item in people's closets.
She asked if I wanted to try one on and yes, I wasn't going to say no to wearing a lovely summery pink yukata with flowers patterns. It was my first time to wear a yukata and I was delighted♡
So many cords (made of silk, wool, or cotton) are used to hold the kimono or yukata together. It was really interesting to watch how that works.
Voila! What do you think? I thought it looked pretty good on me! Wearing yukata, my posture got better naturally and I felt more feminine.
The shopkeeper who helped put the yukata on was wearing a linen shirt with a hakama (a kimono pants, sort of). I thought the combination was marvelous and stylish. I also liked her idea of using han-eri (a neckpiece on kimono) as a scarf around her collar.
Kimono had always seemed unreachable to me—it's too expensive and I don't know how to put it on—but encountering these kimono at Kimonoing offered at a reasonable price, I could see how it can be part of a normal daily life.

At the end of the shotengai shopping street is Osaka Museum of Housing and Living. It's a popular spot for international visitors. If you have interest in the Osakan life and the history of Osaka, make sure to visit!
● Until Next Time, Tenjinbashisuji Shopping Street!
As you come out of the shotengai street, you arrive at Tenjimbashisuji 6-chome Station. I walked the shotengai from one end to another, which was very long, but I actually didn't even think about how tired my feet might be because it was so much fun shopping and eating good food!
At Tenjinbashisuji Shotengai Shopping Street, you can enjoy gourmet food from famous shops with a long history and, at the same time, find the newest food trend. I love to eat and it was perfect for me! Shopping and finding great deals was fun, too. I'll be coming back many times for sure!
When you're in Osaka, reserve a day to explore the Tenjinbashisuji Shotengai Shopping Street. You don't need any detailed plans. Just come here, relax, and enjoy. You'll have an awesome day discovering great deals and tasty foods, guaranteed!
*The information in the article is for 2021.
Recommended Plans
One of the highlights of Osaka is its people and their warm, friendly character. Over its …
2023.09.29
Everyone knows about Japanese snacks—from Pocky to gummies, to ramune to matcha KitKats and mochi …
2023.09.15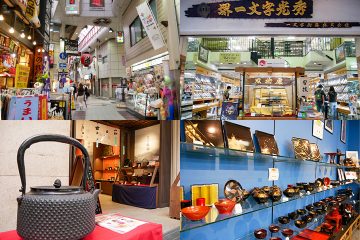 Osaka is Japan's food capital, known as a city where you "eat 'til you drop". Every day, locals …
2023.09.08
Tenjimbashisuji 6-chome
Tenjimbashisuji 6-chome
Ogimachi
Minamimorimachi
Minamimorimachi