The Essence of Japanese Tea
At 155 Year-Old Ujikoen Tea Company
2021.08.27

Written by: TK(TK)
● Everything About Tea at Ujikoen
Having a cup of tea is a great way to escape from the daily turmoil and relax. In recent years, we have seen a rise in the number of tea houses that specialize in Japanese tea, delicately prepared with carefully selected tea leaves. I visited one such café, Ujikoen, in Osaka's Shinsaibashisuji Shopping Street in pursuit of the ultimate cup of tea.
Ujikoen was founded in 1865 as a wholesaler of tea in Yamashiro, Kyoto—an area well-known for its production of Uji tea. This 150-year-old tea company operates a flagship store and a tea café in Osaka's famous Shinsaibashisuji Shotengai Shopping Street. The flagship store opened in 1946, and the tea café was added during the renovation in 2003.
In 1990's Japan, green tea in cans and plastic bottles became available and abundant, and buying a bottle of tea became a norm as opposed to boiling hot water to prepare a cup of tea. A café that serves Japanese tea must have been unique during such times. You can feel its long history in the quiet, refined shop.
● Tea Café: An Oasis in the Center of Shinsaibashi
As I walked into the back of the store, I found a quiet café space that I didn't expect to find in the middle of a bustling shotentai shopping street. A large, simple counter takes up much of the space, creating an inviting atmosphere.
Asai-san, the manager of the Shinsaibashi Shop was there to welcome us. According to Asai-san, the café was created as a place for everyone to enjoy a truly good Japanese tea and, because of that, they kept the menu simple with just tea and snacks. I was especially happy to hear there's no formal etiquette that needs to be observed here and I can just enjoy myself. Phew!
I ordered Gyokuro, a symbol of the premium Japanese tea. Water was boiled in a large iron pot. Soft water (the norm in Japan) is good for making tea, but the flavor of the water becomes milder and smoother when it's boiled in an iron pot or kettle. I waited for the hot water to cool down to the optimum temperature after it was transferred from the iron pot. To me, this waiting time was a luxury in itself.
Houhin (pictured in the center below) is used to prepare Gyokuro. It's a tea ware used to prepare a small amount of tea. 2 more minutes of waiting… An hourglass is used for a precise measurement of time.
It was nice to watch the whole process of making and pouring tea right in front of me. Asai-san poured the tea carefully and gently until the very last drop came out, so I could enjoy every bit of this excellent tea.
I had always wondered what Gyokuro tasted like—people had told me Gyokuro has a strong umami and an aroma of seaweed, and the texture is somewhat creamy, but I wasn't sure what that meant. When I took a sip, though, I understood it all. It was seriously tasteful. The rich flavor of the first sip was direct and extending, then the impression changed when I took a sip after I had a bite of sweets…I savored it all, slowly but surely, taking my time.
Then I had the second pour. This time, the steep time was a much shorter 20 seconds. By the way, with Houhin, it's best to pour all tea at once. If you take your time and try to pour it in several pours, you'd likely spill it.
The second cup tasted different from the first. I felt like I was a tea connoisseur enjoying the light flavor of the second cup!
You can learn how to steep and pour tea at the café. I certainly did and it made me want to try it at home!
● Select the Perfect Tea for A Japanese Tea Life
Selecting Tea FAQ
After enjoying the tea at the café, I went to the store to choose tea to take home. Ujikoen offers a range of tea, mainly from Kyoto but also from other parts of Japan. Asai-san helped me navigate the wide selection.
Q1: What tea do you recommend?
I recommend Sencha Tenkei. It's easy and tasty for everyone including those who are not used to drinking Sencha. It is mildly sweet yet has a body. You can purchase them in tea bags, too.

Q2: Are some tea easier or more difficult to prepare?
Hojicha and Genmaicha are relatively easy to prepare; you can prepare quickly with hot water. On the other hand, Sencha has a distinct flavor when prepared carefully. The secrets to preparing good Sencha are 1) the amount of tea leaves, 2) the temperature and the amount of hot water, and 3) the steep time. With Sencha, you can achieve a perfect balance of bitterness, astringency, umami, and sweetness. I recommend you use the directions written on the packaging as a reference and find your own best way to prepare tea. Our staff can help, too. Using teabags, anyone can prepare a nice Sencha.
Q3: What are some seasonal tea?
Shincha is sold in early summer when tea leaves begin to grow fresh shoots and, in fall, we have "Kuradashi-cha", which are matured tea leaves plucked during the same season as Shincha. They are called "Kuradashi-cha" (literally "out of warehouse tea") because they used to be stored in "kura" (warehouse) to mature. Shincha is great for enjoying the aroma and flavor while the Kuradashi-cha features a mellow taste.
Q4: What are flavored teas?
Here at Ujikoen, we offer three flavors: Sakura cherry blossom, Momo peach, and Yuzu. All these teas use Sencha as its base, to which dried Sakura flowers, peach fruit, and yuzu peel are blended in. These flavored teas make a great companion to Western style sweets.
Q5: Are tea bags as good as loose leaf tea?
Tea bags are easy and quick. At Ujikoen, we created tea bags that have a flavor comparable to loose leaf tea by using the same tea leaves used for loose leaf tea and processing them into fine leaves so the flavor can be extracted faster. I'd recommend tea bags for people who want to try different types of tea and for those who find loose leaf tea is simply too much to drink.
Q6: Which tea is more suitable for taking it in a bottle with me for the day?
I'd recommend tea prepared with cold water because tea changes its flavor over time when prepared with hot water. In summer, we sell tea specifically for making cold tea, but generally all tea can be prepared with cold water. If you prefer to have hot tea while you're out, I'd recommend taking plain hot water and tea bags.
Other than what I've shown here, you can also find in the back of the store premium Gyokuro and Sencha in glass casing for 10,000 yen! I'll reserve these for after I master preparing good tea 😉
I took this opportunity to try different types of tea and bought Sencha (the standard of Japanese tea), Hojicha (easy to prepare), Genmaicha, Yuzu Green Tea (loved the aroma!), and Japanese red tea—in tea bags.
Their white, stylish packaging design makes it great for gifts. In fact, this design received an iF Design Award 2021, one of the world's most prestigious design awards, this spring.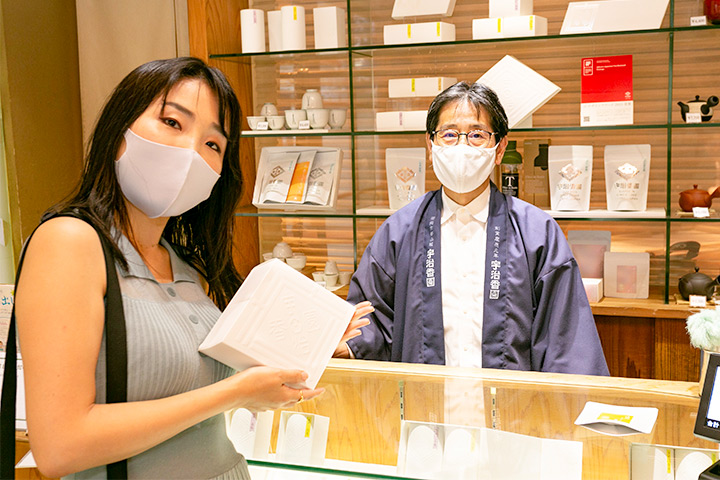 ● How to Enjoy Japanese Tea at Home
Finally, here's how to prepare tea using tea bags and how to best store tea leaves!
How to Prepare Tea using Tea Bags
1) Moisten the tea bag with hot water. This helps get the aroma.
2) Pour hot water and wait for 30 to 40 seconds.
3) Shake the tea bag 30 to 40 times. This is an important step to help extract the flavor.
Super easy, isn't it? Try using different amounts of hot water and tea leaves depending on the type of tea. Also, if you want to make cold tea, simply steep tea leaves in cold water for one hour. The colder the water, the more umami and sweetness you'll taste.
How to Store Tea
Light, moisture, and smell are the enemies of tea. Put the tea leaves in a zipped bag, get the air out, and close it tight. Drink it within one month of initial opening. If you're going to transfer the tea leaves to a tea canister, try to use it within one week before the aroma is lost.
Something Asai-san said left an impression on me. In Japanese, the phrase "nichijo-sahan" (literally "daily TEA and rice") means something like common daily practice. Tea is exactly that—something to be enjoyed daily. Asai-san hopes people will experience the goodness of Japanese tea at Ujikoen and recreate that experience at home. He continues to spread the word about Japanese tea from his store in Shinsaibashi.
After visiting Ujikoen, I am definitely interested and will try recreating a delightful experience with a cup of tea at home. How about you?
■Related article
Spots Introduced
[Access] About 3 mins walk from Exit 6 at Shinsaibashi Station.
[Hours] Store 11:00 am – 6:00 pm / Tea Café** 1:30 pm – 5:00 pm (Last order at 4:40 pm)
*Hours and business days may change because of the coronavirus pandemic. Please check **Take out menu available the official website for most updated information.
[Closed] Wednesdays

Recommended Plans
Spring is here! Here in Japan, spring is when Sakura trees bloom and everyone gets out and enjoys …
2022.03.25
Merhaba! I'm Hamza. I was born in Turkey but raised in Osaka until I was 18. I live in Turkey …
2022.02.18
Forget the conventional image of Japanese tea served properly in a traditional tearoom. Instead, …
2022.01.28
Shinsaibashi
Shinsaibashi