SPECIAL
Discover OSAKA
"Along the Osaka Metro Lines" Series:
The Midosuji Line (North)
2020.09.11
In 1933, the first public subway in Japan and the first subway ever in Osaka commenced its operation covering 3.1km between Umeda and Shinsaibashi. Today, the Midosuji Line is the busiest subway line in Osaka, running every two to three minutes during the rush hours. The line was named after Osaka's main street, Midosuji, that runs north-south in the center of the city, as the line runs directly beneath the boulevard. The red color of this central line was chosen in the image of an artery. In this issue, we'll cover the northern part (Namba Station – Esaka Station) of the Midosuji Line, a 24.5 km line that reaches Suita City to the north and Sakai City to the south. Let's start with Namba Station and go north from there!
Enjoy Shopping and Dining in Osaka's Minami Area
With a concentration of shops and malls such as Namba Walk (an underground mall), Osaka Takashimaya Department Store, O1O1 Namba Marui, Namba Parks, Shinsaibashi-Suji Shopping Street, and Daimaru Shinsaibashi Store, Namba and Shinsaibashi areas are shopper's heaven. Visitors and locals alike gather here to enjoy shopping every day. Osaka Metro's Sennichimae and Yotsubashi Lines intersect at Namba Station, where riders can conveniently transfer to Kintetsu Railway and Nankai Electric Railway trains to reach Nara and Wakayama. Shinsaibashi Station can also be reached using the Nagahori Tsurumi-ryokuchi Line, and it is conveniently connected to Yotsubashi Station on the Yotsubashi Line. This area is great not only for shopping but also for dining—all sorts of eateries line the shotengai shopping streets as well as small alleys. Finding a favorite place to eat is like a fun treasure hunt around here♪
Recommended Experiences Around Namba Station
It's Summertime! Gotta Walk Around Osaka in Yukata!
Introducing an Osaka Specialty
https://metronine.osaka/article_tour/article-myfirstosaka01/
An Oasis in Osaka's Business District: Hommachi – Yodoyabashi
One stop away is Hommachi Station, aka Semba-nishi, where the Midosuji Line connects with the Yotsubashi and Chuo Lines. In this area and around Yodoyabashi Station, the next stop, is one of Osaka's main business districts filled with the offices of top Japanese corporations and international companies as well as major bank branches. Next to Yodoyabashi Station is Osaka City Hall; listen carefully to the subway announcements and you'll hear "shiyakusho-mae," which means "in front of City Hall." At Yodoyabashi Station, riders can connect to Keihan Electric Railway that takes them to Kyoto via Hirakata City.
Above ground, beautiful retro architecture on the waterfront—Osaka City Central Public Hall, the Bank of Japan Osaka Branch, and Osaka Prefectural Nakanoshima Library—and occasional cruise ships passing by provide an oasis in the middle of a busy business district. In spring and fall when roses are in season, Nakanoshima Rose Garden is a spectacle you don't want to miss.
Recommended Experiences Around Yodoyabashi Station
Osaka's Best Rose Gardens!
https://metronine.osaka/article_tour/article-now-rose-garden/
Find the New Osaka in the Stylish Kita Area
We have arrived at Umeda Station, Osaka's gateway that's bustling night and day. The arched high ceiling of the station gives a sense of freedom, and direct access from the station to department stores and food halls lead you into a massive underground mall. With vibrant shopping and food scenes, Umeda is truly the center of Osaka. The city continues to evolve with the redevelopment of Umekita area and much is anticipated for Umeda.
Going north from Umeda, the Midosuji Line surfaces above ground after Nakatsu Station. Across the Yodo River, the train runs parallel to Shin-Midosuji highway, and Nishinakajima-Minamigata Station, Shin-Osaka Station, Higashimikuni Station, and Esaka Station are all elevated.
Shin-Osaka Station—An Osaka Souvenir Paradise—and Beyond
Around Shin-Osaka Station where Osaka Metro connects with Shinkansen are a large number of corporation headquarters and residences of so called "business bachelors" (company employees who live alone on job assignments, often traveling home to be with their family on weekends.) Particularly, Esaka Station functions as Osaka's secondary city center. Around Nishinakajima-Minamigata Station, which is connected with Hankyu Railway's Minamikata Station, is an area often referred to as a ramen battleground, in a city full of great ramen shops. Lines of people formed in front of ramen shops is not a rare sight around here. A quick trivia: Osaka Metro's Nishinakajima-Minamigata Station is the first station name to combine two placenames, Nishinakajima and Minamikata.
Shin-Osaka Station is a great spot for Osaka specialty shops such as Arde Shin-Osaka, Entrée Marché, and Eki Marché. You can find a whole range of souvenirs from classic Osaka confectionery to popular sweets.
Following the receipt of Toilet Award Japan's Minister of Land, Infrastructure, Transport and Tourism Award for the restrooms near the central ticket gate in 2015, a large food and dining hall, Shin Naniwa Daisyokudo, opened inside the station in 2016, and a special train viewing spot was created in 2020. Shin-Osaka Station continues to expand its services for passengers, with special consideration for transfers to/from Shinkansen and other JR lines.
At Esaka terminus, the train connects directly to (meaning it basically turns into) Kita-Osaka Kyuko Railway and continues, without requiring a physical transfer between trains, all the way to their terminus Senri-Chuo. By 2023, this line is scheduled to be extended two more stops into Minoo City.
Welcome to Osaka Metro's Toilets
https://metronine.osaka/article_tour/20200604-metro-toilet/
We will cover the southern half of the Midosuji Line (Namba Station – Nakamozu Station) in the next issue. Get to know and enjoy the different characteristics of the northern and southern parts of Osaka prefecture!
"Along the Osaka Metro Lines" Series:
The Midosuji Line (South) Here
https://metronine.osaka/article_tour/article-osakafinder-midosuji-South/
Say Goodbye to getting lost in Umeda and Namba Stations!
Learn about Osaka Metro's AR Navi App here
https://metronine.osaka/article_tour/20200807-ar-navi/
Recommended Plans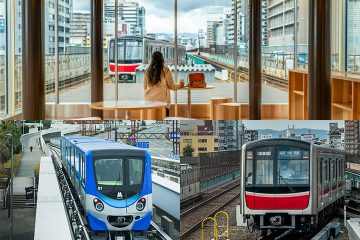 The colorful train cars of Osaka Metro attract railway enthusiasts and others to take …
2023.08.25
Welcome to Along the Osaka Metro Lines series which showcases the characteristics and …
2021.05.14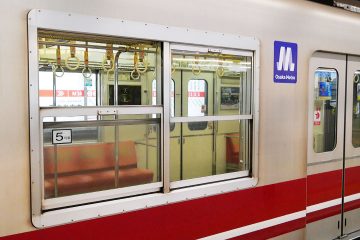 Osaka Metro has implemented a number of measures to provide safe and comfortable services to …
2021.04.30