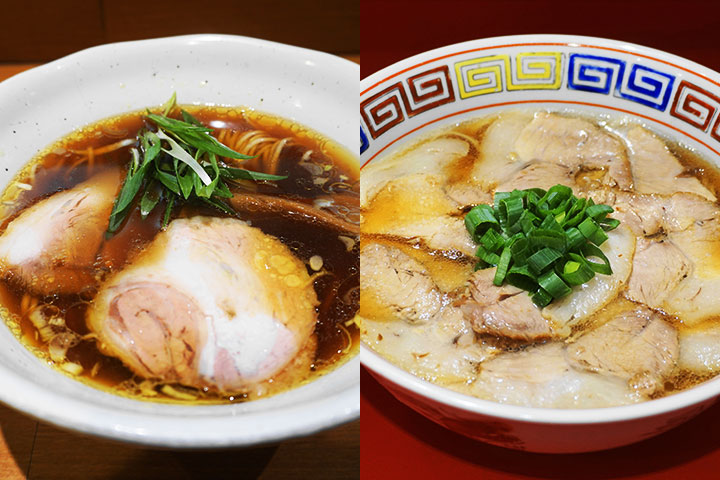 Osaka Metro's Ramen Tour – Part III:
Chuka Soba That Ramen Connoisseurs Love
2020.11.06

Written by: Shino(Shino)
● Chuka Soba vs. Ramen
Ramen is a global culinary trend.
Many ramen shops have ventured out of Japan and ramen has become a common food scene in the world.
Ramen offers a variety of flavors—in its soup, noodles, and toppings. In this issue, we're going back to the fundamentals of ramen and examine two popular chuka soba, a classic chuka soba created by an experienced chef and a chuka soba with a twist from a long-established ramen shop.
But first, what is the difference between chuka soba and ramen, you might ask? The answer is simple: They are actually two of the same thing.
When ramen first arrived in Japan, it was called "chuka soba," "shina soba," or "nankin soba," all simply meaning "Chinese noodles." Only when Nissin Foods' "Chicken Ramen"—the world's first instant ramen—hit the market in the 50's, did the term "ramen" become a common vocabulary.
While ramen and chuka soba are one and the same, commonly, chuka soba is a simple dish with light soy-based broth served with chashu (roast pork), menma (seasoned bamboo shoots) and negi (green onion).
While ramen continues to evolve, good old chuka soba remains constant, providing familiarity and comfort.
● Chuka Soba Uemachi: Refined Soy-Based Soup
About five-minute walk from Osaka Metro's Tanimachi 6-chome Station is one place you can find classic chuka soba.
Chuka Soba Uemachi stands quietly on Uemachi-suji Avenue.
Behind the traditional Japanese noren door curtain at the entrance is a simple eatery with just counter seating.
While other items on the menu piqued my interest (like tsukemen, cold ramen noodles served with a bowl of dipping broth,) I ordered the classic Chuka Soba Shoyu.
I was already excited just waiting for good ramen then a bowl of savory ramen appeared in front of me; I couldn't help but gasp with joy as the aroma of soy sauce hit my nose.

Simple toppings included chashu green onion, and menma in clear hearty broth.
I took one sip, and the umami of soy sauce permeated my mouth.
This is it! This is what I'd been looking for.
I finally found the chuka soba with that familiar flavor I've known all my life!
Broth is a blend with Yamatonikudori chicken from Nara as the main ingredient. It's light yet rich and loaded with umami. Noodles are soft yet has a nice texture; they are springy and matches the broth well.
While the dish looks quite simple, thick chashu gives a sense of luxury, giving richness to the soup. This dish was created with much care, and its pleasant flavor made me very happy.
I asked the owner Mr. Harada what Chuka Soba is to ramen. He told me with a gentle smile that it's the orthodox, a classic ramen that makes you feel as if you've known it all your life.


● Kadoya Shokudou: The Umami of Pork Chashu
Ask any ramen connoisseur and they know the famous Kadoya Shokudou's main branch located mere five-minute walk from Osaka Metro's Nishinagahori Station. Only carefully selected high quality ingredients are used in their soup made from chicken, pork, seafood, and soy sauce and in their homemade medium thin flat straight noodles. Their orthodox "chuka soba" is well known and often referred to as the "ultimate" chuka soba.
Even such classic chuka soba from a long-established ramen shop is evolving, however. Visit the new Kadoya Shokudou in Crysta Nagahori, a shopping mall between Shinsaibashi and Nagahoribashi Stations. Here, they serve different styles of chuka soba.
I wasted no time to order "Chuka Soba Pork." My eyes opened wide and the excitement reached its max when I saw my bowl of ramen. Slices of chashu carefully laid out on top of the broth with chopped green onion in the center looked like a flower.
Without a doubt, chashu is the star of this chuka soba. Order it as a set menu and you get free kimchi and rice.
The broth is packed with the umami of Satsuma Chamiton, a pork brand from Kagoshima Prefecture, and goes perfectly with Kadoya's springy medium thin flat noodles that have a smooth and refreshing texture. The rich soy flavor with a hint of tartness gives you a sense of comfort while getting you hooked. Enjoy a little surprise towards the end of the bowl when the flavor deepens as the chashu fat starts to melt.
I recommend enjoying the tender, juicy chashu out of the ramen bowl, too—simply wrap Kadoya's high quality rice and nira (Chinese garlic chives) kimchi with a slice of chashu and take a bite!
Once you taste this flavor, you won't be able to stop eating it♥ Their soup is also a perfect companion to rice; it's warm and tasty. They filled me up good.
Enjoying chuka soba thoroughly with rice—to me, this is a new way to eat chuka soba. I liked it.
Next time you're looking for something hearty, go get Kadoya's chuka soba. It'd be perfect.
● Going Back to the Fundamentals
Chuka Soba offers a wide variety—from classic to new and evolving—but the common thread across all is the familiar flavor that makes you feel at home. That and the originality each shop has created makes me think of ramen as the ultimate Japanese cuisine that bolsters Osaka's food scene.
I had so much fun! And I loved the chuka soba♪
>>Part II is here!
Some days I have an intense craving for ramen—when I just need a big lunch or when I'm out late …
2020.10.09
Spots Introduced
[Access] About 4 mins walk from Exit 7 at Tanimachi 6-chome Station.
[Hours] 11:00am - 2:30pm, 6:00pm – 9:00pm or until sold out
[Closed] Mondays

[Access] About 1 mins walk from Exit 5-B at Nagahoribashi Station.
About 5 mins walk from Exit 2 at Shinsaibashi Station.
[Hours] 11:00am - 10:00pm
[Closed] Open Everyday

Recommended Plans
Hi! I'm Bryan. I was born in New York and grew up in Denver. I've been living in Japan for 15 …
2023.08.04
There is no doubt that Japan is the vending machine capital of the world. It's like you will …
2023.06.02
Japanese ramen is a popular noodle dish sought after not only by Japanese but many people of the …
2022.03.11
Tanimachi 6-chome
Tanimachi 6-chome
Nagahoribashi
Nagahoribashi
Shinsaibashi
Shinsaibashi