Osaka Metro's Ramen Tour – Part II:
Worthy Ramen Near Metro Stations
2020.10.09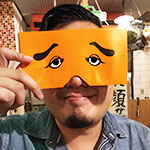 Written by: メガだんご(megadango)
● Slurping Quality Ramen Near Metro Stations
Some days I have an intense craving for ramen—when I just need a big lunch or when I'm out late and need something to finish the night off… Whatever the situation may be, ramen is perfect, without exception.
Let's eat ramen! Wait, but which ramen?? Shoyu, tonkotsu, or miso based? You can even find ramen with duck broth nowadays. The question is, simply, what do I want today?
Osaka is the city where you eat until you drop, a place where enticing ramen shops await you right outside Osaka Metro stations. A convenient location and tasty soup—what more do you need? Let us go find the best ramen, ones you wouldn't mind making a train trip for to eat, continuing our ramen tour on Osaka Metro.
>>Part I is here!
Osaka Metro's Ramen Tour – Part I : The Battle of Orthodox vs. Latest Sensation Here
● Imazato Wasshoi: Dynamic "Man's Ramen"
Imazato Wasshoi stands in front of you when you exit Imazato Station. The white sign above the storefront reads "otoko no ramen" (literally "man's ramen")—I'll be honest; it raised my expectations.

I ordered "Otoko no Konjo Kurojoyu" currently the most popular item on the menu. Clank, clank, clank! I heard the delightful sound of a wok from the kitchen. At the same time, I smelled the aroma of garlic and sesame oil and it stimulated my appetite.
The bowl of soup full of back fat was topped with a mass of stir-fried pork belly, cabbage and bean sprouts. It was impressive; I couldn't even see the noodles. I took a sip of the soup. I felt the force of garlic followed by the sweetness of soy sauce. Despite the plenty of back fat used, the broth is light with a sharp and refreshing finish. Thick noodles are soft, springy, and filling, and make a perfect pair to the rich broth.

You can customize the amount of the noodles, vegetables, and meat. If you want to go all out, try "otoko mori" meaning "man-size", a grade above "o-mori" large. If garlic is too much for you, order "kie-nin" (literally "erase garlic".) The tea served at the shop is a special blend of jasmine and Ceylon—it cuts the grease and neutralizes the pungent garlic smell, and you can leave the shop with a surprisingly refreshing afterglow.
● JUNK STORY: Committed to the Highest Quality Ingredients
Next stop is Ramen Style JUNK STORY, located just two minute walk from Tanimachi 9-chome Station. Facing the Sennichimae-dori street, the large sign with pop letters marks the shop. At first glance, it doesn't look like a ramen shop; rather, the décor is casual, more common for bars. Yet the atmosphere is welcoming to solo woman diners.

I ordered their signature dish "shio no kirameki"—literally meaning "sparking salt." As the name indicates, it is a shio (salt-based) ramen with sparkling golden soup. Toppings are simple; chicken chashu (roasted chicken,) menma (seasoned bamboo shoots,) green onion, plum pulp, and mitsuba Japanese parsley. A sip of the soup—with dashi broth base carefully made with jidori chicken and clams—lets you savor the gentle flavor of the clams. Although the finish is light, the robust flavor of jidori chicken gives it a depth and you taste the intensity of umami.

Handmade noodles using an original blend of wheat are flavorful and have a crisp texture. They go perfectly with the soup and are easy to eat. Two kinds of chicken chashu—seared thigh and yuzu flavored breast—are served, and a mere bite of chashu changes the flavor of the soup in your mouth.
Simple is best, indeed. A bowl of ramen that extracted only the essence of umami with zero waste makes me groan. I can eat this ramen anytime, no matter what time of the day…
One visit is not enough to savor their menu that includes "shio no tokimeki" with extra toppings, shio tsuke men, and limited-time menu items. It's worth a brief detour to visit this shop.
● Mugi to Mensuke: The Supreme Chuka Soba
Easy access from Umeda, Mugi to Mensuke Shin Umeda Nakatsu is located about five minute walk from Nakatsu Station. This shop only has a small nameplate in front and has a presence of a hide-out style izakaya or a traditional Japanese restaurant. Don't let it intimidate you though, because superb ramen is waiting inside.

The ticket machine stands in front of you as you enter. Many ramen shops in Japan operate on a ticketing system, where you first purchase a ticket from a machine for the item you want and give it to shop staff as a way to place an order. Their signature dishes consist of chuka soba and iriko soba (with dashi made from dried baby sardines.) I ordered "Ajitama Chuka Soba" It showed up on my table in less than five minutes.
Let's take a look—clear soy-based soup, straight medium-width noodles, pork loin chashu cooked with low heat, lightly grilled pork belly chashu, menma, and a seasoned boiled egg. What's different about this ramen is the tsukune meatball topping. With just one glance, you can see their passion for ramen.


They combined the stock made from whole Kyoto jidori chickens and whole Nagoya Chochin chickens with katsuo bonito broth, then mixed in their original soy-based sauce to create the shoyu-based ramen. The smoothness of this soup will surprise you. The mild sweetness of soy sauce is abundant and perfectly matches the depth of the rich soup and the noodles. The yolk of the seasoned egg topping is runny and flows out when cut into. Scoop it together with the soup using your renge spoon and put it in your mouth—it's delicious.
The bold flavor, created only with the pursuit of the best classic chuka soba, defines the ultimate form of chuka soba. Tradition remains strong.
All three ramen shops above are committed to quality and offer unique, exquisite ramen that you can't find elsewhere. They are all different—all-powerful "man's ramen," smooth and clean shio ramen, and classic chuka soba—and they are all excellent. The world of ramen is vast. Do you visit the same shop again and order something different? Or do you continue to explore new shops? It's a very difficult question. As I think about it, I'm already getting the urge to eat ramen again. I'm hungry.
>>Part I is here!
A comfort food for the Japanese, ramen is a staple in Japanese food. The wide variety of …
2020.10.02
Spots Introduced
[Access] About 1 mins walk from Exit 6 at Imazato Station.
[Hours] 11:30am–3pm, 6–11pm
[Closed] Thursdays (Open if it falls on a holiday)

[Access] About 2 mins walk from Exit 1 at Tanimachi 9-chome Station.
[Hours] 11am-3pm, 6-10pm
Weekends/Holidays 11am-3:30pm, 5-11pm
[Closed] Open everyday

[Access] About 4 mins walk from Exit 1 at Nakatsu Station.
[Hours] 11am-3:30pm
Weekends 11am-4pm
[Closed] Tuesdays

Recommended Plans
Ramen is a global culinary trend. Many ramen shops have ventured out of Japan and ramen has …
2023.12.01
Hi! I'm Bryan. I was born in New York and grew up in Denver. I've been living in Japan for 15 …
2023.08.04
There is no doubt that Japan is the vending machine capital of the world. It's like you will …
2023.06.02
Imazato
Imazato
Tanimachi 9-chome
Tanimachi 9-chome
Nakatsu