The Best 3 Summer Wagashi from Osaka♡
2021.08.13

Written by: リナ(rina)
● Summer Wagashi to Cool You Down
August brings a full-fledged summer to Japan. These scorching hot days make me want to eat cool summer treats!
Luckily for me, Osaka has many Wagashi traditional Japanese sweets shops, from well-known shops with a long history to the newest trendy spots♪ And I can always find great summer Wagashi that not only look refreshing but also restore my hot, tired soul and body. I'm going to share some of these spots so you can try them when you get here!
Let's first talk about the types of summer Wagashi. Mizu-yokan (azuki bean jelly), mizu-manju (literally "water bun"), warabimochi (jelly like mochi made with bracken starch), anmitsu (mitsumame beans topped with azuki bean paste and syrup), kuzukiri (arrowroot starch noodles), waka-ayu (fish shaped cake with gyuhi rice cake stuffing), and plum jello are all staples at wagashi shops in summertime. And, of course, matcha soft served ice cream, kakigori shaved ice, and summer fruit daifuku are everyone's favorite.
As I look at the list of summer wagashi right here, I realize they're mostly nice and cold and provide water for the body♡
I feel refreshed just thinking about them Lol.
Let's take a look at the best three summer wagashi in Osaka!
● Fruits Daifuku from Maruhime♡
First up is the increasingly popular fruit daifuku. Since its opening in December 2020, a premium fruit daifuku specialty shop "Fruits Daifuku Maruhime at Minamimorimachi" is a trending topic on social media.
We visited the mortar-tone shop with a relaxing atmosphere about 2-minute walk from Osaka Metro's Minamimorimachi Station.
Store interior was also simple and chic yet felt somewhat luxurious. Through the large glass window behind the counter, I saw the staff making daifuku in the back. Each daifuku is handmade right here and they make 400 to 500 a day! I was already excited with the anticipation of having their fruits daifuku♪
At Marushime, about 10 to 12 types of daifuku are offered each season. For my visit, the store manager prepared fruit daifuku they recommend for summer, that are perfect for our "summer wagashi" theme.
From the front of the plate, we have mango, dragon fruits, green kiwifruit, and gold kiwifruit.
All of them were enormous because each one contains a whole fruit!
One milimeter thin gyuhi (soft mochi) wraps the fruit completely. Its round shape and the colorful cross section were lovely. It touched my heart♡
With one bite, I found the sweetness of the super thin gyuhi and the white bean paste matched perfectly with the natural sweetness of juicy fruits. Each fruit provided a unique flavor—the dragon fruit was light and had a crispy texture, while the kiwifruit was juicy and had a nice balance of sweet and sour. It was, indeed, a premium fruit daifuku that brings out the best flavor of the fruits used.
You can carry out or order a delivery via their online shop. Make sure to try cutting the daifuku, by the way—all daifuku comes with a piece of thread that you can use to cut it in half. Simply wrap the thread around the center of the daifuku and pull, using both hands. Voila! You have a perfect cut.
● Cool, Jiggling Manju from Namiyoshian
Established in 1858, Namiyoshian's main store is a long-standing wagashi shop that sits quietly in the area called "Oku-Namba" (literally "deep Namba"), about 5-minute walk from Daikokucho Station or about 10-minute walk from Namba Station. I didn't know you could find a traditional Japanese architecture with such serene existence only a few minutes away from the bustling city streets.
Osakan locals love this shop and its lineup of both unique and familiar menu items including their signature product "aburi-mitarashi" (roasted dumpling with a sweet soy based sauce), dorayaki pancakes, and monaka (azuki beans sandwiched with thin wafers).
The adjacent café is a perfect place to enjoy tea with these delicious sweets, kakigori shaved ice, and more! It is a popular place, indeed, with a line of people outside the door waiting to get in at times.
My top recommendation from Namiyoshian for summer is their seasonal offering, Hie-toro-man (literally "cold, melting, bun")!
Inside of this cute wooden bucket packaging is filled with jiggling mizu-manju, which is a summer version of manju. While manju is typically a round steamed cake made with flour and filled with sweet azuki bean filling, mizu-manju is made with arrowroot starch called kudzu which gives it a transparent look.
I cut into one of them using the accompanying little bamboo stick and found nicely thick sweet azuki paste.
The whole thing melted as soon as I put it in my mouth. I liked that it wasn't too sweet.
Hie-toro-man is cool and smooth; it would be great even in summer heat.
● Goldfish in Jello?! from Souke Minamoto Kitchoan
Last but not the least is Souke Minamoto Kitchoan at Koraibashi, another long-standing wagashi shop with 75 years of history. It's located about 1-minute walk from Kitahama Station on the first floor of a brick building that blends right into the neighborhood of Kitahama known for many retro architectures.
Their wide range of menu includes traditional yokan (thick azuki bean paste dessert) and manju as well as their popular "nature series" products that uses whole fruits. In summertime, look for their signature products like "Riku no Hoju" which uses premium muscat grapes or "Tosenka" which packs juicy white peach generously in jello.
My favorite, from this wide range of offerings at Souke Minamoto Kitchoan, is this cute jello, Goldfish♪
It's a cute wagashi, with bright red goldfish swimming in transparent jello♡ This wagashi reflects the culture of Japan where people refresh on a hot summer day by watching goldfish swim, a custom that began during the Edo Period (1603 – 1868 CE). Goldfish is still a summer tradition in Japan today.
Jiggling jello has a refreshing flavor of muscat grapes, and the goldfish inside is made of yokan. You might hesitate to put it in your mouth because it's so pretty, but go for it—because it tastes really good♪
This product is great as a summer gift or a souvenir as it keeps for 30 days.
On the next hot summer day, be nice to your body and soul and have a goldfish jello!
Spots Introduced
[Access] About 1 mins walk from Exit 6 at Minamimorimachi Station.
[Hours] 9:00 am – 7:00 pm

[Access] About 5 mins walk from Exit 1 at Daikokucho Station.
About 10 mins walk from Exit 5 at Namba Station.
[Hours] 11:00 am – 5:00 pm
[Closed] No scheduled closing (Closed 2 – 8 days every month), Closed during the New Year season

[Access] About 1 mins walk from Exit 6 at Kitahama Station.
[Hours] Monday - Friday 9:00 am – 7:00 pm
Saturdays 9:30 am – 6:00 pm Holidays 10:30 am – 6:00 pm
[Closed] Sundays, New Year's Day

Recommended Plans
Onigiri is a simple food. Steamed white rice shaped into a triangle, with just a little bit …
2023.05.12
สวัสดี! (Hello!) I'm Nene. I'm from Thailand and I live in Osaka. I love anime, manga, food…and …
2023.02.10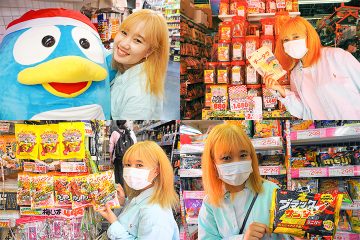 สวัสดี! (Hello!) I'm Nene. I'm from Thailand. I live and work in Osaka and love everything …
2023.02.03
Minamimorimachi
Minamimorimachi
Daikokucho
Daikokucho
Kitahama