SPECIAL
Discover OSAKA
"Along the Osaka Metro Lines" Series
Issue 1: The Yotsubashi Line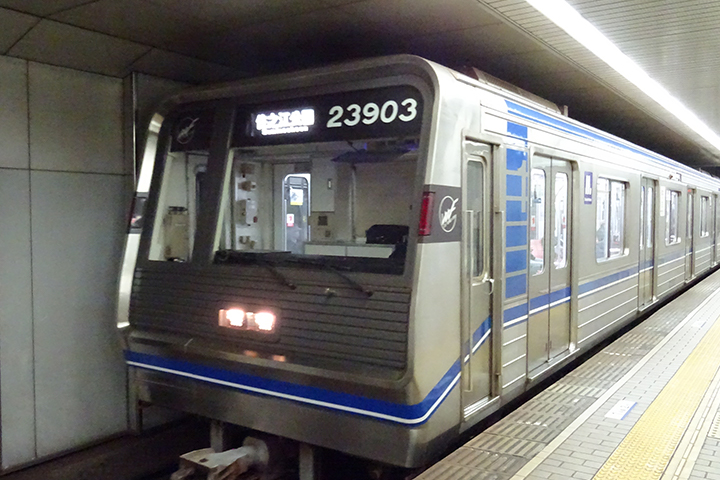 2020.05.01
Here's the first of the new series that introduces the characteristics and charms of the 9 Osaka Metro lines as well as the interesting neighborhoods around them☆
If the Midosuji Line (which boasts the highest ridership) was the head of a coin. the Yotsubashi Line would be the tail of that coin. Running parallel to the Midosuji Line most of the way, the blue Yotsubashi Line operates closer to Osaka Bay over a stretch of 11.8 km between Nishi-Umeda Station to the north and Suminoekoen Station to the south, about a 20-minute ride. Some say the Yotsubashi Line is blue because it is considered the vein of Osaka—while the Midosuji Line is the artery—and runs closer to the sea.
Connecting the Business Districts
Let's start with Nishi-Umeda Station, the northern tip of the Yotsubashi Line. We'll work our way down southward.
Located to the west of Umeda Station as the name indicates, Nishi-Umeda (literally "West Umeda") Station allows for an easy transfer to Midosuji Line's Umeda Station and Tanimachi-Line's Higashi-Umeda (literally "East Umeda") Station. What's great about this transfer is that you will incur NO additional charge as long as you get to another station within 30 minutes after exiting one of the three stations—and they are all conveniently connected with massive underground malls. This means, for example, you can get from Yotsubashi Line's Hommachi Station to Tanimachi Line's Miyakojima Station via a quick transfer in Nishi-Umeda/Higashi-Umeda, for one straight fare☆
Next stop is Higobashi Station. While the south side of the station towards Hommachi is filled with offices, if you walk north from Higobashi towards Nishi-Umeda, you'll find the 200m tall Nakanoshima Festival Tower (Japan's tallest twin towers) that contains an art museum and a luxury hotel as well as Festival Hall where world class concerts and musicals are performed. Many enjoy a meal at one of the many restaurants in Festival Plaza before heading to Festival Hall for a concert.
Honmachi Station provides a quick transfer to the Midosuji and Chuo Lines. This place is almost like a maze—with one big station serving three lines—but you can follow the station signage to find your way!
Near the busy Hommachi Station, Utsubo Park is an oasis where you will see joggers and people simply enjoying a stroll. The park also contains Osaka's oldest rose garden as well as a Tennis Center that hosts international competitions. At night, you can find hidden gems around the park, making this area a perfect spot to grab a drink or a bite while avoiding the hustles and bustles of Kita and Minami areas.
Avoid the Crowds on Your Way to Minami
The Yotsubashi Station is connected to Midosuji Line's Shinsaibashi Station via an underground passageway. Crysta Nagahori, said to be Osaka's longest underground shopping street, runs between the two stations and stretches further east to Nagahori Tsurumi-ryokuchi Line's Nagahoribashi Station. Wide and straight, Crysta Nagahori is easier to navigate than Umeda's underground labyrinth. Horie area, on the west side of Yotsubashi Station (not the Shinsaibashi side), is known for stylish cafés and home décor shops that are popular among young professionals.
After Yotsubashi, you reach Namba Station, a transportation hub where travelers can conveniently catch trains for Kansai International Airport and Osaka International Airport (Itami Airport) or access the nearby OCAT for long distance buses that will take them all over Japan. You can also transfer to Osaka Metro's Midosuji and Sennichimae Lines, in addition to JR, Hanshin, Kintetsu, and Nankai railways that will take you anywhere in Osaka Prefecture as well as surrounding regions. Since these Yotsubashi and Namba Stations are a mere 5-minute walk from Midosuji Line's Shinsaibashi and Namba Stations, Yotsubashi Line makes for a perfect alternative to the crowded Midosuji Line when heading south from Umeda.
Feel the History of Osaka
Coming out of urban Namba, we first arrive at Daikokucho Station, an area filled with the charms of shitamachi—good old neighborhoods of Osaka. The Midosuji Line also runs through Daikokucho Station so it's a super quick transfer—sometimes the Midosuji Line train is waiting for you just on the other side of the platform. You certainly don't need to walk a lot to transfer, like you would at Hommachi Station!
Imamiya Ebisu Shrine, famous for its Toka Ebisu Festival (a 3-day festival to celebrate the god of commerce), is a short walk from Daikokucho Station.
See more about Toka Ebisu Festival here.
Start the year right with Toka Ebisu!!!
That takes us to Hanazonocho Station, then Kishinosato Station and Tamade Station.
residential areas where you can feel the daily lives of Osakans. Public facilities, including the Nishinari Ward Office (Exit 2), surround Kishinosato Station.
Little known about Kishinosato Station is its former name—Sarachi. This name was used before the Yotsubashi Line officially opened. And you can actually find the old station sign on the south side (towards Tamade) of the Kithinosato Station! A simple design with no line color (blue), this is one of very rare old station signs that exist (as of April 2020). The fence makes it a bit difficult to take a picture, but you can see it clearly if you're there.
Tamade is the birthplace of the famous grocery store chain "Super Tamade"! Known for its low price, Super Tamade can be found all over southern Osaka Prefecture. When I first saw the big crazy yellow neon sign with big red letters spelling out (in Japanese) Super Tamade, I thought it was a pachinko parlor. Only in Osaka, a grocery store would be so gaudy…
We're getting close to the end of the line. The area around Kitakagaya Station prospered with shipbuilding industry and was filled with large factories back in the day. Today, Kitakagaya is home to Creative Center Osaka, a museum, and a bunch of art galleries, and is known as an evolving town of art built around the old factory sites under the Kitakagaya Creative Village vision.
Our last stop is Suminoekoen Station where the Yotsubashi Line connects with Osaka Metro's New Tram that runs along the seaside. With Boat Race Suminoe—a boat race stadium—nearby, this area is packed with boat race fans when races are held. We've mentioned the Yotsubashi Lineis convenient for accessing Shinsaibashi and Namba, and it's also great for accessing Osaka Bay Area as well as Southern Osaka. Here at Suminoekoen, you can hop on a bus for Sakai City and access southern Osaka easily.
Recommended Plans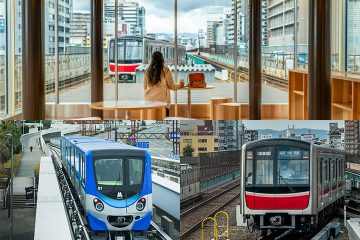 The colorful train cars of Osaka Metro attract railway enthusiasts and others to take …
2023.08.25
Welcome to Along the Osaka Metro Lines series which showcases the characteristics and …
2021.05.14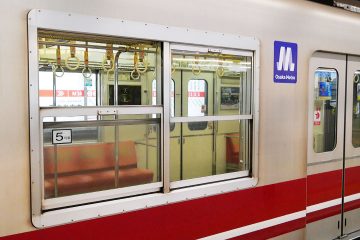 Osaka Metro has implemented a number of measures to provide safe and comfortable services to …
2021.04.30